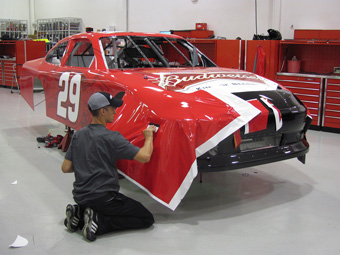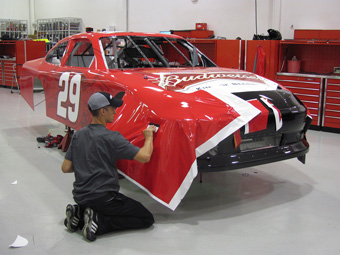 NASCAR fans worldwide are excitedly awaiting the kick off of the 2013 Sprint Cup Series season February 16 at Daytona National Speedway. But they're not the only ones champing at the bit for the action to begin. Team sponsors, companies with big money investments riding on the performance of their star drivers, are also eager to get things rolling. Once the green flag is waved, their brands—represented on the cars of NASCAR pros in the form of colorful wraps and sponsor logos—will attract the attention of millions.
This year marks the 65th anniversary of NASCAR racing, a sport with a following of more than 75 million fans around the globe. Among U.S. professional sports franchises, NASCAR ranks second to only the NFL in television ratings.
It's also a multi-billion dollar business, with more fortune 500 sponsors than any other motor sport. All of these sponsors are seeking to reach and influence NASCAR's huge audience, and one of the primary ways they accomplish this is through vehicle wraps. The finely-tuned race cars driven by NASCAR's top pros have become important advertising vehicles, literally, for a host of major companies, including Budweiser, Chevrolet, Rheem, Caterpillar, Bass Pro Shops, and many more.
Of course, these cars don't wrap themselves. Virtually every major NASCAR racing team depends on a crew of skilled graphics professionals and technologically advanced digital printing equipment to design, produce and install the wraps.
One such team is Richard Childress Racing (RCR), which employs a staff of five to wrap the cars of high-profile drivers like Kevin Harvick, Jeff Burton and Paul Menard. The design and production work takes place at RCR's 2,500 square foot Graphics Center, located on the team's expansive campus in Welcome, North Carolina. After creating and outputting the detailed color graphics on their Roland printers, the crew performs the actual wrap installations at three of RCR's 15 on-campus body shops. In addition to wrapping the team's race cars, RCR also wraps the trucks and trailers that transport these cars to and from various race tracks across the country.
According to David Hart, director of corporate communication for Richard Childress Racing, the quality of each vehicle wrap is vital to RCR's overall success. "Sponsorship is the life blood of our organization, and big, bold, colorful graphics are essential for promoting the companies that support us," said Hart. "Our wraps directly represent and reflect the brands of our sponsors, so everything has to be perfect.
"With the cost of sponsorship for a NASCAR Sprint Cup series team at $20 million or more, getting the graphics on the car just right, including color-matched logos, is critical."
For this season, RCR's graphics professionals worked on redesigns (variations upon existing wraps) for returning sponsors, as well as completely new wraps for two new Nationwide Series sponsors joining the team for 2013—Shore Lodge and White Tail Resort. Additionally, the crew created a special "Honey Nut Cheerios" wrap for the car full-time Nationwide Series driver Austin Dillon will use in his attempt to qualify for his first Daytona 500.
The race car that gets the most attention year after year is Harvick's No. 29 Budweiser Chevrolet. "That's our flagship wrap," said RCR Graphics Manager Nick Woodward. "The fact that Kevin drives that car has a lot to do with it, but the high quality design and colors of the wrap certainly add to the attraction."
RCR's graphics team take advantage of the off-season to design and install wraps for its new and repeat sponsors. They also work diligently during the season to make sure the wraps look good for every race. That isn't an easy task, considering the wear and tear NASCAR racing puts on these vehicles. "Under normal 'city street' conditions, vehicle wraps are durable and long lasting," said Woodward. "But NASCAR conditions are far from ordinary—it's a world of scratches, bang-ups, and full-on crashes. We completely re-wrap every one of our cars prior to each race, which means we're installing wraps on an average of seven to nine vehicles per week."
Woodward points out those new NASCAR "Generation 6" auto body regulations brought about extra challenges, and work, for the RCR graphics team as they prepared for the 2013 season. "NASCAR introduced a new set of body style and tolerance rules for this year, so we needed to create new 3-D renderings and design templates for all of our wraps," he explained. "The changes were significant, requiring both our graphics crew and our digital printers to work overtime."
To keep pace with these demands, Woodward and his team rely on four Roland eco-solvent large-format printers, including a 64-inch VersaCAMM VS-640 metallic inkjet printer/cutter, and three SOLJET models—a 54-inch XC-540 printer/cutter, a 64-inch XJ-640 printer, and a 54-inch XC-540MT metallic inkjet printer/cutter. "Just about every graphics team in NASCAR has turned to digital printing technology versus paint," said Woodward. "A lighter vehicle means more speed, and whereas multiple layers of paint added around fourten pounds to one of our cars, a digital wrap adds only 9 pounds.
"Being able to easily remove a digitally created wrap to make body repairs is also a big advantage. Instead of having to strip off all that paint, and then re-paint, a removable digital wrap can be peeled off quickly and easily."
Woodward also stresses the importance of dependable equipment when it comes to fulfilling RCR's extensive graphics needs. "When we're in full swing, prepping for the upcoming season, we don't have time for problems or delays," he said. "There are periods when we're running our Roland large-format printers fourteen to sixteen hours a day, seven days a week, pumping out the prints needed for our wraps. These machines are reliable workhorses—we couldn't get the job done without them."
To learn more about Roland's partnership with Richard Childress Racing and watch videos of the RCR graphics team in action, visit www.rolanddga.com/partnerships/richard-childress-racing.
For more information on the complete lineup of Roland products, visit www.rolanddga.com.