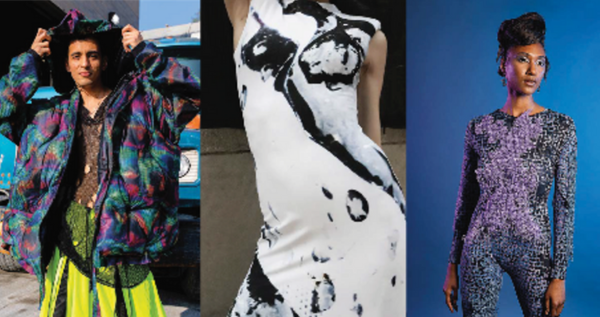 The Fashion Institute of Technology's (FIT) MFA in Fashion Design program recently concluded an exciting collaboration with Mimaki, the leading wide-format printer manufacturer, to introduce fifteen talented students to the immense potential of digital textile printing. This partnership, known as the 2023 Mimaki Student Contest, enabled participants to delve into the realm of custom prints and explore new horizons in fashion design.
FIT's MFA in Fashion Design program is renowned for providing students with a conducive environment to experiment and create under the guidance of experienced and dynamic faculty. The curriculum encompasses crucial aspects such as brand identity, legal considerations, and global supply chain insights, empowering students to focus their designs, develop prototypes, and carve their unique market niche.
With the support of Mimaki, this year's students enjoyed additional resources and encouragement through hands-on digital printing experiences. Victoria Nelson Harris, the senior textile segment specialist at Mimaki, expressed her excitement for the collaboration, stating, "This partnership drives the demand for digital textile printing in the apparel industry and aligns with our commitment to minimizing environmental impact for a better future."
In the Mimaki Contest, every contestant was tasked with designing one custom printed garment. With an array of seven fabric choices, courtesy of Mimaki, students harnessed the power of Mimaki's cutting-edge direct-to-fabric and dye sublimation printing technologies. Alongside this creative adventure, designers enjoyed expert mentoring on mastering digital print file management, all while immersing themselves in invaluable industry experience throughout the entire collaborative endeavor.
In an impressive showcase of talent, the 2023 Mimaki Student Contest collections were assessed across design merit, sample quality, market appeal, creativity, and originality. Ashleen Tuteja emerged as the winning designer, securing an impressive reward: up to $1000 worth of fabric and a generous allowance of up to 50 yards of complimentary printing services for her senior thesis collection, slated for debut in spring 2024.
Bryan Barrientos and Yoon Seo Lee claimed the runner-up positions, earning themselves a well-deserved prize of 10 yards of fabric and printing services each for their anticipated spring 2024 thesis collections.