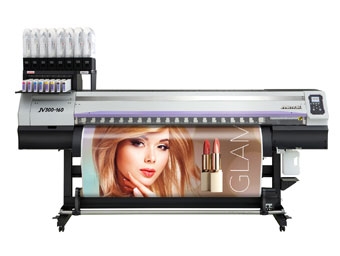 Mimaki USA, a leading manufacturer of wide format inkjet printers and cutters, announced the Mimaki JV300 Series of production-speed, eco-solvent printers. The Mimaki JV300 Series made its worldwide debut at FESPA in Munich; it will be available for hands-on demonstrations at all Mimaki Technology Centers and select exhibitions in the U.S. beginning in June 2014.
The series comprises two models: the 53-inch Mimaki JV300-130 printer and the 64-inch Mimaki JV300-160 printer. The Mimaki JV300 Series printers include eight ink channels and a variety of colors to provide the flexibility to produce nearly any application. These models use Mimaki SS21 fast-drying, eco-solvent inks that can print on hundreds of media choices. Included are new technologies that increase throughput and uptime, and keep operating costs low. View this product sheet for more details.
Innovative technologies on a proven platform deliver robust performance
Built on the proven Mimaki JV Series platform – a workhorse in the company's roll-based printer line-up – JV300 Series printers include newly developed printheads in a staggered configuration and inkjet technology with precise dot control that delivers higher productivity without sacrificing quality. To achieve precise ink droplet placements onto the media, Mimaki designed an optimum waveform, which enables the printhead to jet each ink color at the appropriate jetting angle without losing precise ink droplet circularity.
The Nozzle Check Unit (NCU) reduces ink and media waste, and downtime by checking for potential nozzle outages between file runs. The Nozzle Recovery System (NRS) enables continued productivity by assigning operational nozzles as substitutes until an outage can be cleared.
New media handling features are included such as independent pinch rollers that result in more accurate printing with less damage to the media. A media handling system supports feeding and take-up of heavy rolls up to 88 pounds.
Every Mimaki JV300 Series printer ships with the Mimaki Bulk Ink System-III (MBIS-III) that features two-liter ink packs for all but White ink. (Note: White ink available in 220 ml cartridges only.) This system reduces ink costs when compared to ink cartridges used in competitive products, and enables unattended printing, freeing staff to work on other projects.
Eco-solvent inks print on a wide variety of media for application flexibility
The Mimaki JV300 Series printers employ dependable ink technology used in the sign and graphics industry for many years. Mimaki was the first manufacturer of eco-solvent, wide format printers and the JV300 Series printers use Mimaki SS21 fast-drying, eco-solvent inks that can print on hundreds of media choices for indoor and outdoor uses.
Denser-opacity White ink is ideal for overprinting of backlit applications and under-printing on colored surfaces.
Orange ink increases the color gamut and delivers more vivid output and the ability to reproduce 92 percent of the PANTONE® color chart.
Light Black ink produces high-quality monochrome color reproduction, resulting in grey tones without a red undercast.
Both Orange and Light Black inks, along with Light Magenta and Light Cyan in a eight-color configuration, can also be used to serve the high-end, fine art market where prints command premium prices.
With one Mimaki JV300 Series printer, service providers can produce a variety of printed media for campaigns that include indoor and outdoor components such as retail promotions, and be assured of color and quality fidelity.
For textile and apparel production, Mimaki Sb53 dye-sublimation inks will be available in Magenta, Blue, Yellow, Black, Light Blue, and Light Magenta.
Delivers consistent, outstanding print quality
The Mimaki JV300 Series printers use variable drop sizes along with MAPS3 (Mimaki Advanced Pass System 3) anti-banding technology to ensure precise and accurate print quality throughout the printing process. A patented media heat system ensures uniform ink drying and produces consistent image quality across the entire width of the media.
Pricing and availability
The Mimaki JV300 Series printers offer value with a U.S. starting list price of $22,995 for the JV300-150 (54-inch) model and $25,995 for the JV300-160 (64-inch) model. Pricing includes the MBIS-III bulk ink system, RasterLink6 RIP software and a one year warranty. Shipments are expected to begin in July 2014.
With the entire JV printer range, Mimaki is the only company that offers a complete selection of ink solutions – including eco-solvent, solvent, UV solvent, latex, pigmented aqueous and dye sublimation – with models for any budget.