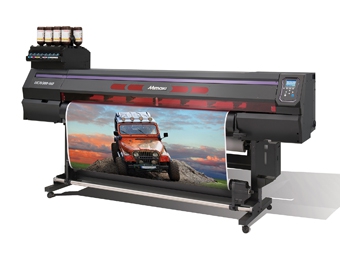 UCJV Series Cut-and-Print Devices
The new UCJV Series UV-LED cut-and-print devices are the only 64-inch UV printers offering in-line cutting capability and models featuring white ink to enable four-layer printing. The UCJV Series is available in two models: the four-color UCJV150-160, and the UCJV300-160 that can accommodate up to seven ink colors. Each can produce a wide variety of print-and-cut applications offered by many signage, commercial and packaging print service providers. UV-LED curing technology enables print service providers to utilize an expanded range of media including many thin film substrates that may be too sensitive for latex or other high heat fixation systems.
CF22-1225 Flatbed Cutting Plotter
Featuring a larger bed size and tools to improve cutting workflow, the new CF22-1225 model builds on the success of the proven Mimaki flatbed cutting plotters such as the CF2 and CFL platforms. The CF22-1225 cutter can accommodate a full 4-foot by 8-foot board, making it an ideal companion to the JFX200-2513 UV-LED flatbed printer. This combination—along with appropriate design software—can be used to create free-standing POP displays, packaging prototypes or industrial components. The CF22-1225 cutter supports the new ID Cut feature in RasterLink6 Plus software to automate the cutting process and reduce errors caused by manual handling. It also ships with FineCut8 software.
Updated Software: RasterLInk6 Plus and FineCut8
RasterLink6 Plus software. This new, feature-rich version of the widely used Mimaki RasterLink RIP software includes an ID Cut function to make printing and cutting easier and faster. Along with registration marks, RasterLink6 plus software includes a bar code on the print. The barcode, read by the crop mark sensor on a UCJV printer/cutter or CF22-1225 flatbed cutting plotter, contains detailed cutting and file rotation information. This new feature helps customers reduce labor and waste by utilizing the Mimaki hardware to automate the finishing process. The ID Cut function is particularly useful when running nested print-cut jobs, as the printer continuously reads the data for both single and ganged jobs. RasterLink6 Plus software also includes a print preview for four-layer printing on the UCJV300-160 model, enabling operators to preview the transition effect before printing.
FineCut8 software. Mimaki's proprietary and industry-leading cutting software has been updated to include compatible drivers for Trotec Speedy Series laser cutters. With this plug-in, designers can easily create both print data and cut data from within Illustrator. The files are seamlessly sent to the correct devices on the network, such as print data to a UJF-6042 MkII printer and cut data to be interpreted by the Trotec laser cutter driver. The easy-to-use FineCut8 software is essential for creating high margin custom printed and laser cut awards and personalized products using wood, acrylic and other difficult to finish substrates.
LA Series Laminators
New Mimaki LA-160W and LA-170W laminators are heat-assist devices that are optimized for use with wide format printing applications utilizing UV, solvent and latex inks. This new heat assisted platform helps to reduce visible "silvering" when overlaminating prints. The LA-160W is a 62.2-inch model, while the LA-170W is a 66.9-inch model; both pair well with the new UCJV Series UV-LED cut-and-print devices, when extra print protection is desired. Laminating speeds of up to 295 inches per minute ensures finishing is not a bottleneck. These models are designed for easy use by a single operator, and feature a take-up roll for the finished graphic.
3DUJ-553 3D Samples
New samples from the newly released Mimaki 3D printer—formally named 3DUJ-553—will be on display in the booth. This revolutionary printer uses a full-color UV LED-cure method delivering more than 10 million possible color combinations for vibrant and photorealistic output. Clear ink can create translucent objects, or be used as a finishing coat to make the underlying colors "pop." The 3DUJ-553 printer uses a water-soluble support material that is easy to remove utilizing an optional ultrasonic cleaning bath. This shortens the 3D post-print finishing process and helps avoid damage related to hand finishing while also maintaining fine details.
Mimaki Microfactory: Bringing the Maker Market to Main Street
The Mimaki Microfactory was created to help show digital print providers how they can take advantage of the rapidly growing on-demand manufacturing market. Using existing technologies—including digital printing and cutting, plus inks from Mimaki, as well as complementary technologies from other industry leaders in finishing and fabrication—Microfactory experts will show how these components can be assembled to create pop-up microfactories for a variety of finished goods.
Planned Workflows on Display:
• POP & Packaging: using UV-LED flatbed printers, software and flatbed cutters
• Awards & Personalization: using UV-LED printers, software and Trotec laser cutters
• Soft Signage: using UV-LED printers or digital textile printers with transfer heat presses, software, and SEG finishing equipment
• Signage & Wraps: using a variety of Mimaki printing technologies and laminators, plus a wrap demonstration
• On-demand Textiles: using transfer sublimation printers, software transfer heat press, plus a professional seamstress to assemble items and accessories.
About Mimaki USA
Mimaki is an innovator and a pioneer in the development of digital printing and cutting products worldwide. The company has engineered and manufactured a complete line of digital printers and cutters, and offers a total workflow solution for the many applications found in the Sign & Graphics, Textile & Apparel, and Industrial markets. In 2014, Mimaki USA celebrated fifteen years of serving customers in the Americas. It is an operating entity of Mimaki Engineering of Japan, which celebrated its 40th year in 2015.
For more information, visit www.mimakiusa.com.