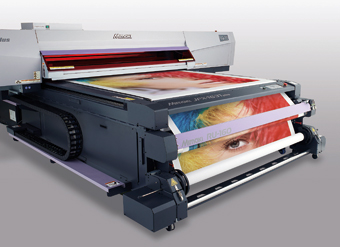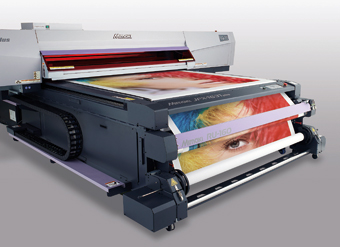 Mimaki USA, Inc.
in Suwanee, GA will release the new JFX plus series. The series of LED type, UV curing wide format flatbed inkjet printers includes JFX-1631 plus and JFX-1615 plus. This series is 80% faster in the maximum print speed than the existing wide format flatbed inkjet printer, JFX‐1631. A Post–Cure device has been incorporated to enhance curing resulting in greater speed.
Main Features
1. Achieves the maximum print speed of 254 sq ft/h, 80% faster than the JFX
With standard installation of "Post Cure Unit", ink gets a secondary curing after UV light cures the print, which makes it possible to utilize the print speed of 254 sq ft/h (300 x 600dpi / 4pass/ bidirectional). This maximum print speed of JFX plus series is 80% faster than the maximum print speed of 140 sq ft/h (600 x 600dpi / 4pass / bidirectional) with JFX series. For printing businesses requiring fast turnarounds, the
additional print speed meets clients' needs.
*When using the post cure unit, the vertical print range will be shortened by 15.7".
2. Roll Unit heightens operation efficiency and productivity
As an option, the Roll Unit is available for continuous roll media printing. As various print data can be printed automatically in the preferred quantity, this option contributes to the operation efficiency. Also, if there is a large quantity order, continuous printing can be done unattended overnight, which brings an increase in productivity and quick turnarounds can be achieved.
*Each print data size will be limited to the maximum print area available on the flatbed.
3. Choose your Flatbed Size
"JFX‐1615 plus", with flatbed size of 63.1" x 59.1" is added to the product lineup. Users can choose from 2 flatbed sizes, depending on their purpose of use, amount of installation space, and budget.
4. Other Features (Functions carried on from JFX‐1631)
• High Definition print that defies common knowledge of wide format quality which makes even a 3 point font text legible
• Printer main unit UV device uses LED type which emits less heat, making printing on heat sensitive material possible without deforming or discoloration.
• Direct UV Printing capable on non‐coated material up to 1.97 inches in thickness
• 2 Ink types available for varied applications‐ rigid or flexible UV curing inks.
• White ink makes vivid full color print possible on clear or colored media.
• With clear ink (available only in rigid UV ink) provides glossy finish or matte finish adding value to the product outcome.
• Thicker layered print achieved by printing on the same spot multiple times.
• Eco‐Cartridges used to reduce waste – just replace the ink pack inside of the cartridge casing
Main Specifications
♦ Printer Main Unit


For further information, please contact our Mimaki Branch Offices or Marketing Department:
Atlanta: 678‐730‐0100 888‐530‐3988
Boston: 617‐965‐7000 888‐530‐3986
Chicago: 847‐884‐9451 888‐530‐3985
Los Angeles: 818‐886‐2236 888‐530‐3987
Marketing Department: 678‐730‐0100 888‐530‐3988