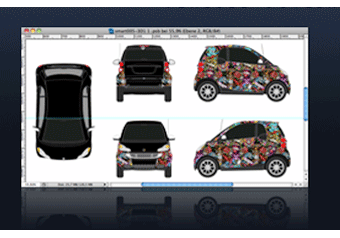 MR CLIPART has launched its all-new Web site at www.mr-clipart.com. This new site provides a much easier and faster product download and navigation for current and potential customers. All current subscribers of the Pro Vehicle Outlines and Car'n Truck product range are invited and encouraged to visit the new MR CLIPART site, update their username and password, and download any required vehicle templates.
MR CLIPART also announces the release of its newest vehicle template collection called Car'n Truck 2012. New features are:
* Online access to 18,000+ vehicle templates covering 72,000+ vehicles/model years;
* Thousands of specialty templates, wrap-ready print-files, vehicle graphics, sign templates, fonts, and much more are included;
* More professional file formats like CDR, AI, and new, PSD;
* All templates are created with well-organized layers for easiest handling of objects;
* Free access to many online webinars and tutorials; and
* All the newer vehicles are available in various 3-D formats (including Photoshop).
Car'n Truck 2012 is available for US $ 149.00 for one-year online access. Until January 31, 2012, the 2012 edition is available for US $ 99.00 for the first year.
"It is the right time to add more value and features to Car'n Truck. The time of high-priced, sometimes over-priced Clip Art or template products is definitively over," states Dirk Moebes, CEO and general manager of MR Clipart. "There is no other template product available [that] is even close in price/value ratio. During this sales campaign, the Car'n Truck download service costs $8.25 (U.S.) per month."
For more information, check out www.mr-clipart.com.