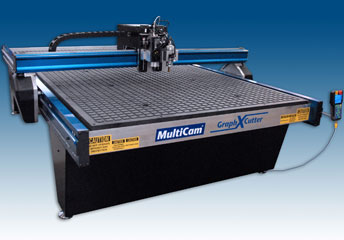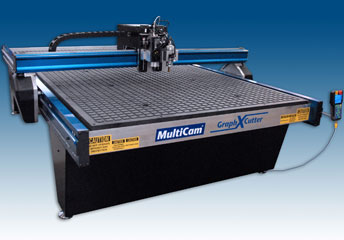 MultiCam Inc., a global CNC cutting system manufacturer, is now offering the new Graph-X-Cutter. "This high-speed CNC finishing system is fast, flexible, and extremely affordable," said John Harris, director of sales and marketing.
With a maximum cutting speed of 1000 inches per minute, the Graph-X-Cutter also delivers 2100 IPM maximum rapid traverse. This fully equipped cutter features both high-speed routing and heavy-duty tangential knife cutting capabilities. An integrated one-inch phenolic vacuum table is standard and the optional MultiVision digital registration allows for correction of image skew and drift. All axes have Teknics brushless ac servo drives. The Graph-X-Cutter comes in four models with working areas of 50 inches-by-50 inches to 80 inches-by-120 inches.
To learn more about MultiCam's CNC cutting solutions, visit www.multicam.com or call 972/929-4070.