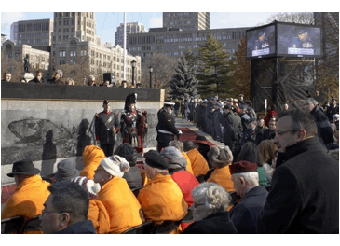 What are you going to do when you have an outdoor ceremony and need a large, waterproof digital video display that can be set up and taken down quickly? The answer, as APG Displays found, is NanoLumens® 112-inch NanoFlex™ display. APG Displays, NanoLumens' exclusive Canadian distributor, supplied two NanoFlex displays to their trade partner Mediaco when Mediaco was called upon to provide a digital video solution for Ontario's 2011 Remembrance Day ceremony.
Remembrance Day, also known as Armistice Day, is a memorial day that honors all veterans by remembering their selfless courage and commitment on the anniversary of the end of World War I. The 2011 Ontario ceremony featured a speech by Ontario Premier Dalton McGuinty and was held November 11 at the Ontario Veterans Memorial at Queen's Park, Toronto.
According to APG Displays Vice President David Weatherhead, "When Mediaco came to us and said they needed two outdoor displays large enough to be seen from hundreds of feet away, that could be put up and taken down in a single day, the only solution was the NanoLumens 112-inch NanoFlex flexible display. It's the only display that satisfies all the needs of this kind of event—it's easy to put up quickly because it's very lightweight, it's super bright (so it can be viewed in direct sunlight), it's viewable from any angle with no loss in picture quality, it's durable and waterproof for outdoor applications, and it's more energy-efficient than any other display technology available today.
"And because the NanoFlex display is compatible with virtually all video input sources, using it as a live video display is just as easy as hooking it up to a DVD player."
According to Karen Robinson, NanoLumens SVP of Marketing and Sales, "With our lightweight, super-bright displays, event producers can now quickly and easily provide large video displays for short events and multi-day festivals. With the ability to move NanoLumens displays from day to day, reduced manpower requirements and significant energy savings over other display technologies, we offer the most portable, versatile, and profitable digital video displays available today."
First introduced in 2010, NanoFlex™ digital displays remain the only solution of their kind. They conform to fit any surface, are thin, lightweight, and energy-efficient and can be mounted as easily as a work of art. NanoLumens is the only company in the world able to reliably manufacture ultra-thin and lightweight, easy-to-install and maintain, seamless 6mm pixel pitch flexible LED displays in virtually any shape or size to meet each customer's unique requirements.
Designed and assembled entirely in the United States, NanoLumens displays are now available in both flexible and non-flexible frames in four product lines: NanoFlex™ and NanoWrap™ flexible displays; NanoSlim™ non-flexible rectangular displays; and NanoShape™ non-flexible round, square, and triangular displays.
APG Displays' rental division searches the world for the most innovative, high impact audiovisual products and brings them to special events, meetings and trade shows in Canada and the U.S. We are proud to offer one of the most comprehensive portfolios of cutting-edge large video display solutions, each with customized accessories, specialist technical support, and full system design and installation services. We have worked with some of the largest exhibit, conference and production houses in the business, providing tailored support for each client. We also partner with some of the biggest A/V names in the country with our exclusive Trade Partner Program. APG Displays is a member of MPI, ITRA, TSE, ISES, and Tourism Toronto special event and rental organizations.
Headquartered in Norcross, Georgia, NanoLumens, Inc., is a privately held corporation engaged in the research, product development and component design for unique flexible displays that address a yawning technology gap in the $14 billion digital display industry. NanoLumens has built a portfolio of more than 20 international families of issued and filed patents on its flexible display technology that effectively address the commercial market void between relatively small flat-panel displays and huge, limited application LED boards. NanoLumens technology is not constrained by standard sizes and shapes or by the size, noise, and cost issues associated with commercial LED products.