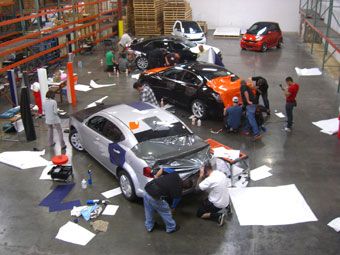 What's the best digital print media for the job? It's a question that should come up when bidding on any project.
However the best answer may not always be the most obvious one.
With so many choices available and new materials appearing all the time, it can be a bit vexing to select, especially for unique print projects. Turn to the media suppliers, and recommendations will invariably point to something in their catalog.
For insights a little less biased, we posed the following question to manufacturers of large/grand format digital printing systems: What advice do you offer owners of your printer about selecting print materials for their projects?
Some do market their own line of media, and all have taken steps to certify a broad range of products from major media vendors and to build profiles for use on their systems. So printer manufacturers can be less prone to pitch any particular product or single brand.
Core Considerations
There is strong consensus among those interviewed for this story that selecting the right media always comes back to the same set of core considerations.
"There may be a number of media types you can choose from for a print job at various price points," begins Dave Conrad, marketing director for Mutoh America. "This is why understanding the application, the print placement, customers' expectations, and budget are extremely important to being sure that you choose the right media for the job."
At Epson, Jeff Smith, manager of Large Format Printing Consumables, advises, "The best way to start is to try and understand the application and the customer's expectations. Then you can start talking about the different kinds of print technologies and the materials available for each."
Qualifying the customer and the project will help narrow the choices. "Consider such variables as outdoor durability, weatherability, and longevity in regard to each application," says Julie Gederos, market development manager for Roland DGA (www.rolanddga.com).
Ken Hanulec, vice president of Marketing for EFI inkjet and VUTEk, says, "It's really about understanding the application: Will it be indoors or outdoors? Will it be viewed up close or at a distance? Will it be installed short-term or long term?
"Once you understand the application, then you can understand what the best production method and media is."
Customers should also be careful not to overlook some critical considerations. "The viewing distance, frequency of changing the graphic, size, weight, and other factors all come into play when selecting media," says Gederos.
Ashley Rowland, director of Marketing and Promotions at Mimaki USA, points out, "Different media types are going to be compatible with different ink types, and if you don't choose the right one, you can face a number of different issues—from poor adhesion to image bleed."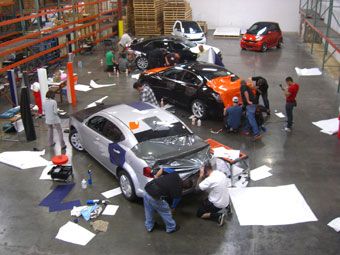 Print Technology Dictates Choices
Certain print systems are best for certain applications, notes Smith, and that narrows the selection to specific types of media. He says:
Aqueous printers are good for printing vibrant images for indoor installations where color quality, rather than longevity, is the key requirement;
Solvent systems are for more durable prints, typically for outdoor installations; and
UV printers are for sustainability and versatility, whether printing on conventional or unique substrates.
"There are different benefits to each of these printing technologies," says Smith. "Once you decide which is the best print technology for the job, then you can start talking about the different kinds of materials which are available."
At that point, economics figure into the selection, as determined by client budget and desired margins. "Besides media and ink compatibility, a major factor that people consider is cost," notes Rowland. "A small sign shop printing graduation banners or temporary P-O-P displays probably isn't going to pay for a premium material, because it really isn't necessary and suitable for the job."
At the other extreme are jobs for government agencies, the fine arts, or on architectural glass where image quality or durability are requisites. "The graphics will be scrutinized and viewed closely so the printer is willing to pay more and have that peace of mind. It really boils down to how important the job is and how much you're willing to invest," says Rowland.
Conrad cautions, "Although saving money is important, the best media choice for the job may not always be the cheapest."
In fact, focusing on application niches requiring more expensive specialty media can be an effective way to differentiate one's services and generate revenue. "The real value and profits come when you can print on materials that others can't," says Hanulec, noting one advantage of UV flatbed printing.
Part of Epson's strategy is to concentrate on lucrative niches requiring specialty media for specialized applications. "We've [focused] on more of the boutique aspect of large format, in printing on canvas, fine art, and wallpaper," offers Smith as examples. "There's lower volume but incredible demand and profit."
There to Assist
Whether producing a highly competitive commodity like banners, or targeting a select print application, printer manufacturers are eager allies, ready to assist in selecting the right media for the job.
Your success ultimately determines theirs, as well. They have a vested interest in ensuring every print job meets client expectations—and they accept that responsibility. Their respective Web sites contain a wealth of resources on digital print media and recommended applications.
"We spend a great deal of time developing our printers, the printheads, and ink systems," notes Smith, "and we spend just as much time developing media as part of a matched system with carefully selected products for the photo, fine art, and proofing markets."
Starting with equipment vendors' recommendations will save time and ensure results. "It's always easier to find media that has already been profiled for the Mutoh ValueJet and inks being used," says Conrad. "If the print job allows you to source a media this has already been done for, that would be the first option to consider."
Like its competitors, Mutoh has created and assembled profiles for an extensive selection of media, with profiles already available for media from most major suppliers. "This makes printing almost any job on a ValueJet printer fast and easy and also ensures the image quality will be the best possible for that particular job," says Conrad.
That kind of ongoing support (with testing of new media as it appears) is a standard all equipment makers continually strive to meet.
Roland's selection of tested and profiled media "takes a lot of guesswork out of getting the desired results across a wide selection of substrates," according to Gederos, who points to the media section of Roland's Web site as the place to begin. On the site, customers can find application photos, videos, and detailed product descriptions. "If what's on the Web isn't sufficient, customer support stands ready to assist," she says.
Rowland adds, "We routinely work with premium media manufacturers to ensure compatibility with our equipment and ink and develop color profiles for our customers."
For unique applications where a recommended or certified media isn't already available, all manufacturers have networks in place to identify or find the right material for the challenging project. "Besides our sales staff, Mimaki has an extensive dealer network trained by Mimaki that's very knowledgeable about the media they sell and its compatibility with our equipment and ink," says Rowland.
Smith says, "If they want to hit the pavement running, we can tell them, 'Here's the media that satisfies your application.' But we also love when a customer comes to us with a new application and asks, 'What have you got, or what can you recommend?'"
Hanulec agrees. "We love to talk to our customers. That's what gets us excited about this business," he states. "Every day, they come to us with something new."
By Mike Antoniak
Photos by (from top to bottom): Colorado Signs & Graphics, ImageOne Impact, & Roland.