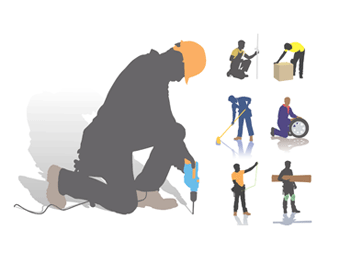 Ingram Image has created a new DVD collection Ultimate Trades & Objects—a comprehensive library of over 1,300 white background photos and layered EPS vectors. The two-volume set was conceived an alternative to the dated "occupations" images currently available.
Volume One contains 300 images depicting trades and occupations. Ingram identified a lack of accurately detailed, contemporary images in this area and working with London-based photographer Alexander Steiner and professional illustrator Michael Travers have produced a collection of genuinely stylish images.
Louis Ingram, CEO of Ingram Image, added, "For years, our clients have pushed us to offer up-to-date trades and business images. We've found them impossible to source so we felt it important to get involved in the image making process ourselves. Our Senior Picture Editor art directed and supervised the casting and prop selection process. He was also in regular communication with Michael as the vector illustrations were produced."
Ultimate Trades & Objects Volume Two is a unique collection of just over 1,000 of the best 'photo objects' from Ingram's royalty free library. The diverse selection of designer friendly images includes a surprised black cat, a burnt piece of toast, and a house of playing cards!
Both volumes are now available at www.ingrampublishing.com and all 1,300 images can be viewed by following this link: Ultimate Trades & Object­­s.