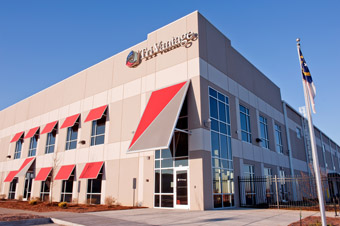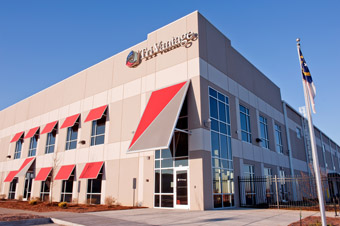 Tri Vantage®, the nation's largest distributor serving awning, marine, and furniture markets, has achieved full operational status for its new Consolidated Distribution Center (CDC) in Mebane, North Carolina. The 102,000-square-foot, state-of-the-art facility serves as the central receiving point for more than 200 Tri Vantage product suppliers. The CDC consolidates 12,500 different items that are shipped daily to Tri Vantage branches and customers nationwide.
"The CDC represents a major investment in operational efficiency, giving us the platform we need for continuing enhancements of product availability and service to customers," said Ron Paratore, vice president of sales for Tri Vantage. "By bringing operations together into one location, we are not only gaining operational efficiency, but we are also improving inventory management system-wide."
Located in close proximity to Interstate-85 and distribution hubs for FedEx, UPS, and Glen Raven Transportation in central North Carolina, the Tri Vantage CDC incorporates the latest in automated warehouse management. Every item is bar coded for quick access and continual inventory control. The new center also provides cut yardage services for the wide array of Tri Vantage fabrics.
"One of the ancillary benefits of the CDC is environmental by reducing our carbon footprint," Paratore said. "While in the past vendors were shipping directly to our branch locations all across the U.S. and in Canada and Mexico, we are now receiving consolidated shipments in Mebane, which results in a significant reduction in fuel consumption."
In addition, the CDC is built to the requirements of Leadership in Energy & Environmental Design (LEED), the internationally recognized standard for green building construction. Energy efficiency is emphasized throughout the center, which utilizes forklifts powered by electricity rather than propane to help assure a quality environment.
"The CDC represents a key element in our vision for the future," said Steve Ellington, president of Tri Vantage. "Our ultimate goal is to help grow awning, marine, and furniture markets for all of our customers, and the CDC will play an essential role in helping us achieve this objective."
For more information about Tri Vantage, visit www.trivantage.com and www.glenraven.com.