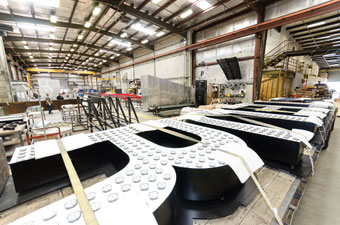 YESCO's Las Vegas location embodies the big and bold culture of the city it's located in by handling large and unique jobs. These jobs require a lot of materials, and this is especially evident in the amount of paint the shop uses—twenty to twenty-five gallons of automotive-grade paint a week.
YESCO boasts four spray booths on one side of the building and four more on the other to prevent an interruption in work.
"You have to have a constant flow," says Tom Day (pictured, below), supervisor of the Paint/Fiberglass Department of YESCO in Las Vegas. "If you were just to have one spray booth, you'd spray it, wait, spray it again, etc."
YESCO has been spraying Sherwin-Williams automotive-grade paint for the last seven years because of its ease of use and longevity. The shop switched to Sherwin-Williams when the industry as a whole started demanding satin finishes over gloss.
Day says satin finish is very sprayer-sensitive. "Generally I'll have two of the same guys work together in pairs because they spray real similar, and the product always comes out the same way," he explains. "When you're doing bigger projects, you need to team-spray stuff.
"You have to have guys who spray similar, or it won't come out the same."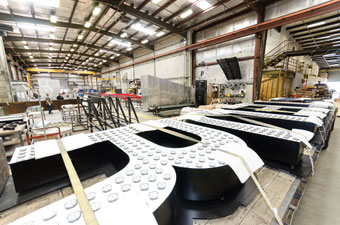 Because of the amount of paint the shop sprays, YESCO has a mixing bay in-house. With the mixing bay, Day is able to input the color code into the system, and it will pull up the color that can be created across all Sherwin-Williams' lines and finishes. Even OEM colors and competitor color codes can be matched.
Of course, color matching isn't always as easy as inputting a code, especially when a customer isn't sure of the color they want. Even matching an existing color that's been on a sign for a few years can be difficult if the color has aged and faded, as the new paint won't match. This is where spray outs come in handy.
"Generally with the sign industry, a customer will say, 'I want this color,' and then we'll do a color spray out for them," says Day. "It makes it a lot easier when you're dealing with a customer that isn't sure of the color they want."
By Ashley Bray
All photos: Camilla Sjodin, Sjodin Photography