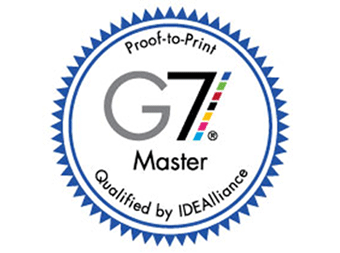 Orbus Exhibit & Display Group, one of North America's leading suppliers of display, exhibit and event solutions, is proud to announce it has achieved recertification of the G7 Master Print specification. In addition, leaders of Orbus' three graphics departments earned G7 professional status. With eighteen state-of-the-art printers and the G7 certification, Orbus is positioned well to serve its clients with more accurate color throughout the graphic production process.
Orbus Exhibit & Display Group was among the first in the display industry to attain the specification for G7 digital printing. While G7 has been widely used and respected in the commercial printing field, it is fairly new to the inkjet industry.
Orbus' continuous effort to maintain this certification assures customers the best quality prints and techniques, a consistent color match from proof to product and higher-quality print results overall.
The G7 Master Print certification requires highly-trained G7 Experts to calibrate printing systems to precise specifications. Once certified, G7 Masters must be re-certified annually to guarantee they preserve proper calibration and processes. To make processes efficient and congruent across facilities, Orbus personnel attended intensive training to achieve G7 professional status, enabling them to recertify their machines independently on a yearly basis and maintain optimum performance throughout the year.
"Several members of the graphics team attended intensive training to become G7 professionals. Earning the G7 professional certification will help team leaders in each of our three facilities to transfer their G7 knowledge to the entire graphics staff," said Jaime Herand, director of Graphic Production for Orbus Exhibit & Display Group. "Achieving G7 Master Print certification for all facilities, and having on-site G7 professionals to continue our certification and guide the team, helps us maintain consistency from location to location, product to product, and across all graphic functions."
With these certifications, the goal is to benefit the customer. Enhanced graphic quality, turnaround times, and a trusted graphics team stand behind every Orbus graphic product that goes out the door.
The Orbus Exhibit & Display Group is a market-leading, privately owned group of companies that specialize in the manufacture and trade only supply of portable modular and custom modular, exhibit and display, products, graphics and solutions. Companies within the group include Orbus365, SignPro Systems, and Origin.