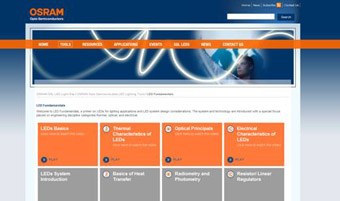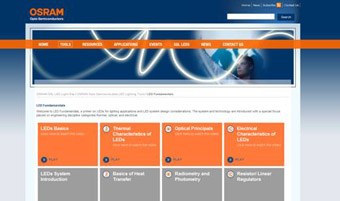 OSRAM Opto Semiconductors has launched a new section within its LED Light Site—"LED Fundamentals." The online tool is dedicated to providing instruction and educational tutorials on a range of subjects from LED lighting applications to LED system design considerations and with a special focus on engineering discipline for thermal, optical and electrical applications. LED Fundamentals will offer training modules for users of LEDs with the goal of helping users to better leverage the energy and cost saving potential of LEDs.
LED Fundamentals is an expansion of OSRAM Opto's existing LED Light Site, which serves as the leading source of LED information, resources, tools, technology, and LED lighting solutions for the solid-state lighting, general illumination space.
LED Fundamentals will help users find informative presentations on topics ranging from introductory sessions such as "LEDs Basics," to technical deep-dives on LEDs and solid-state lighting, such as "Radiometry and Photometry," "Resistor/Linear Regulators," and "External Thermal Resistance (substrates)." The training modules will be led by the product and technology experts at OSRAM Opto Semiconductors, a leading manufacturer of optoelectronic semiconductor components and technologies for a wide range of lighting applications.
"The LED Light Site was designed to provide our customers and partners in the general illumination market with the most up-to-date information and resources available about LEDs and solid-state lighting," said Kate Cleveland, marketing communications manager for OSRAM Opto Semiconductors. "We are very pleased to introduce LED Fundamentals as an expansion of the LED Light Site to provide information and instruction on a wide range of topics within solid state lighting."
For more information, visit the OSRAM Opto Semiconductors LED Light Site's LED Fundamentals page here.