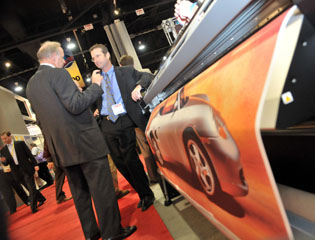 Get your head around retail at SGIA's exclusive 2011 Business Development Conference—Improve Your Position in the Retail Supply Chain (Denver, Colorado; May 11-12).
Register now
to take advantage of the early registration discount – extended through April 6.
At SGIA's new Conference attendees will learn:
* Which retailers, categories and store formats will drive future growth.
* Successful ways to communicate in the retail sector, including phrases and buzzwords that will immediately elevate your retail marketing and positioning.
* Effective strategies for moving up the value chain with major brands and retailers.
Don't miss the highly anticipated panel discussion: "Winning at Retail" with Brad Green of The Integer Group, Jay McLoughlin of RETHINK FABRICS, Martine Padilla of Sophizio and Cheryl Martin (a change management consultant). Panelists represent clients such as Toyota Motor Sales, The Walt Disney Company, and Godiva. These Industry veterans will discuss future opportunities and best practices for graphic communications firms in the retail sector.
Register now for the 2011 SGIA Business Development Conference and save $100—but hurry, offer ends April 6. Make sure you reserve your hotel room at the Sheraton Denver Downtown Hotel by April 9 to take advantage of SGIA's discounted group rate. For more details, visit SGIA.org, Keyword: BusConf.