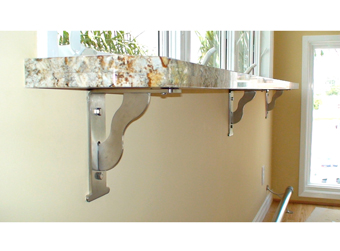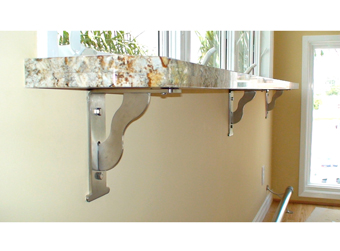 Not just another industry standard, wimpy countertop support bracket from which to choose, Outwater's solid 304 brushed stainless steel and 1008 unfinished cold rolled steel (intended to be painted or finished by the end user) Countertop Support Brackets are fabricated in the USA from the highest quality materials in a wide range of attractive designs with implemented ISO 9001 certified manufacturing procedures and possess incomparable strength and load capacities for use in all types countertop support applications.
Outwater has expanded its line of Countertop Support Brackets with the introduction of many new styles and sizes along with an innovative series of newly pioneered Floating and Elevated Countertop Support Brackets [Floating Countertop Support Brackets + Elevated Countertop Support Brackets], which not only create the appearance of a floating countertop, their design and configuration allow for maximum leg room, thus offering a viable solution to the uncomfortable knocking of knees often encountered when using traditional countertop support brackets in cramped spaces.
Outwater's Countertop Support Brackets are not only pleasing to the eye, unlike generic support brackets, they have a load rating of over 1,000 pounds per pair, and combine beauty, quality and industrial strength to enable even the heaviest countertops to be supported with ease.
Outwater's Countertop Support Brackets are 1/4-inch-thick, have a flange width of two to three inches and can be easily mounted using standard 1/4-inch screws or bolts.
For further product information, please click HERE.