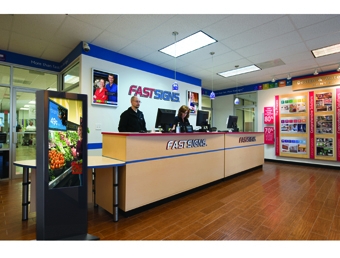 As the demands within the print industry continue to evolve, traditional print shop businesses must make adjustments to their business models in order to stay relevant. FASTSIGNS® International Inc.—the worldwide franchisor of more than 560 FASTSIGNS® sign, graphics and visual communications centers in eight countries—recognizes the challenges faced by independent owners and offers proven franchise programs to provide the necessary resources they need to diversify and grow their businesses.
After successfully launching its Co-Brand franchise program at Graph Expo 2012, FASTSIGNS now has numerous independent print operators in the program, who reap the benefits of being part of a national franchise system and enjoy increased revenues. The franchise's executives will be headed back to Graph Expo (Booth No. 4245) on Sunday, September 28 to Wednesday, October 1 in Chicago to participate in discussions around printing business advancements and to speak with independent business owners about opportunities to evolve their businesses through the company's Co-Brand progra.
In addition to exhibiting, FASTSIGNS executives will host exclusive lunch session on Sept. 29 at 11:30am Guests who pre-register for the program will have an opportunity to meet with FASTSIGNS EVP of Franchise Support & Development Mark Jameson and CEO Catherine Monson.
"I understand the change and constant margin pressure the printing industry continues to experience," said Monson, who was previously in the sheet fed printing industry for twenty-eight years. "Diversifying your printing business into signage and visual graphics is a sound way to grow new, profitable revenue streams. We created this Co-Brand franchise program to help independent printing company owners attract new customers and drive new revenue streams with healthy profit margins.
"Our franchise owners are still in the driver's seat of their business and they also benefit from our proven systems, industry-leading brand awareness and exposure, 24/7 support from the home office, and a network of 560-plus franchisees they can call on for advice."
Independent business owners can join FASTSIGNS through its Co-Brand program for as little as $10,000 down in addition to reduced royalties. As the leading brand name in the sign and graphics industry, the company offers the latest technology, cost savings through relationships with national vendors and suppliers, comprehensive marketing and visual communications solutions and the benefits that come from networking with FASTSIGNS centers nationwide.
Co-Brand franchise partner Dick Helmey, who owns FASTSIGNS of Houston, TX – Midtown South, said, "FASTSIGNS made the whole idea of new product opportunities and new solutions come alive for our current clients. It was also a good fit because it brought a lot of new resources that we really didn't have available to us before…training, research, new product support, operational support."
Due to its resources and open flow of communication, FASTSIGNS consistently receives top ratings for system growth and franchisee satisfaction, including: ranking number one for three consecutive years in the sign and graphics category in the Entrepreneur Magazine annual Franchise 500®, placing as the top sign and graphics franchise by the Franchise Research Institute, and earning certification as a 2014 World-Class Franchise by the organization for the eighth consecutive year, and ranking on Franchise Business Review's 2013 FBR 50 list for outstanding franchisee support. In addition to these honors, USA Today, G.I. Jobs magazine, and Franchise Business Review have recently recognized FASTSIGNS as one of the top franchises for military veterans.
For franchise information or to register for the lunch program with FASTSIGNS at the 2014 Graph Expo, contact Mark Jameson at 214/346-5679 or email [email protected]. Availability is limited.