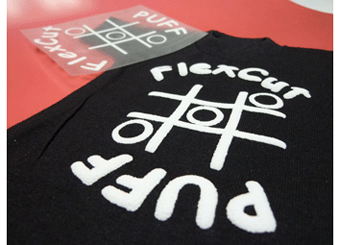 RTape Corp., introduces FlexCut Sticky Puff. This thin heat transfer film looks like and cuts as easily as every other polyurethane film. But once heat is applied, RTape's Puff film magically inflates creating a three-dimensional applique. You get the rich look of embroidery, but without the expense.
RTape's FlexCut Sticky Puff is designed for application to cotton, polyester, and blended fabrics.
After preheating the fabric in the heat press for three to four seconds, the Puff film transfers to the garment at 330⁰F (165⁰C) for 15 seconds at low pressure.
The new film is available in six popular colors: White, Lemon Yellow, Electric Red, Reflex Blue, Green and Black.
For more information, please call RTape direct at 800/440-1250 or 908/753-5570.