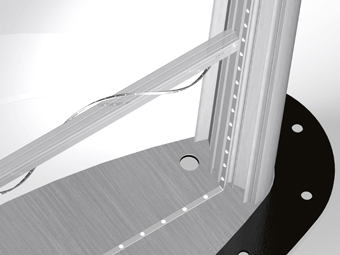 Vista System International, a world leader in Modular Curved Frame Technology (MCFT), now offers its customers a new LED illumination kit as an alternative low-voltage solution to illuminate its Vista Light line of products.
The LED kit consists of an adhesive LED band as well as a power supply; it is fixed to the sign structure along the aluminum profiles and end caps.
The LED kit is ready to use (plug-and-play); the only adaptation required by the customer is to use a plug adaptor when the default electricity plug does not match the local outlets.
The LED lighting offered is optimal for use with Vista System products and since it's a low Voltage lighting solution it can be applied to any destination around the globe.
The Vista Light Line has always been the illuminated line of products offered by Vista System.
Thus far, the sign solutions were offered without the lighting component; however, due to customer feedback the LED kit is now available as part of Vista System's continues effort to provide a complete solution for the entire project.