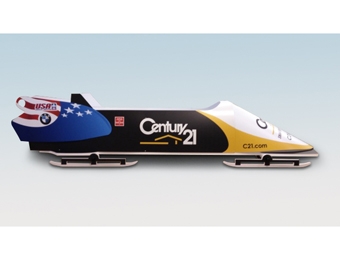 Working with a tight deadline and a challenging assignment, Color Ink delivered its client realistic 1:1 scale models of Olympic bobsleds in time for the Olympics. Established in 1984, Color Ink, Inc., employs over 120 people working in 100,000+ square feet of production space in Sussex, Wisconsin. They have a well-deserved reputation as an industry leader in new technologies. Their customer base includes national as well as local accounts.
Before the 2014 Winter Olympics, Century 21 Real Estate's ad agency approached Color Ink and asked if they could produce a paperboard replica of a U.S. Winter Olympic bobsled. Century 21 is an official sponsor of the US bobsled team and their objective was to display a handful of the replica bobsleds at various locations during Winter Olympics that took place in February 2014.
The project had multiple challenges. Color Ink had to come up with a structural design that would be lightweight for shipping, and have as few parts as possible so that it would be relatively quick and easy to assemble the model. In addition, they had to make sure that the material was durable enough so it would not sustain any damage during the shipping process—but it had to look as authentic as possible. All of this was requested within a budget of approximately $1,300 for each finished bobsled.
"The agency provided us with the graphics that were used on the official bobsled," remembers Todd Meissner, Color Ink President. "We had only three weeks from receipt of the files to deliver final product. We created a structural design of the bobsled that was compact for shipping, easy to assemble and lightweight."
When Color Ink created the initial, small-scale twelve-inch blank prototype, Meissner flew to Philadelphia to review the job with the agency and make minor modifications. It took only a two-hour working meeting to get final instructions. "The blank replica was approved by the customer prior to the actual production run," adds Meissner. "We then applied the graphics to fit the outer skin of the replica." The final bobsled model was created from lightweight 40mm white styrene wrapped around a one-inch Ultraboard curvature frame and printed on an Inca Onset Q40i. http://www.incadigital.com
"Printing the job with our six-color Inca Digital Onset Q40i was simple. In fact, from our point of view, it is usually the easiest task of any job," says Meissner. "Just by virtue of the printhead and ink technology, the quality from the Inca Onset Q40i is exceptional. The solids were very easy to replicate, without any banding."
"The fact that we were able to overcome all of the challenges and created a finished product that looked truly authentic at such a low cost per unit was amazing—and a big help to our client," raves Meissner. "We were able to execute flawlessly on every aspect of the project: creativity, print production, assembly and shipping. The weight of the package was only forty-one pounds, about the same size as an artificial Christmas tree box. We exceeded our client's expectations by providing a finished product that was more realistic than their original requirements."
For its efforts, Color Ink was honored a special award for creativity during Inca Digital's 2014 IDEAs awards ceremony this past May in Munich. The judges praised the effort, saying, "This was a unique design, with complicated specs. It was impressive."
"We are getting calls and requests we never thought we would receive from this job," remarks Meissner. "A week ago, the US bobsled skeleton team noticed a blog I had posted about the bobsled, and expressed interest in a similar bobsled for their sponsors. We're in the midst of negotiating with them for the job, now."