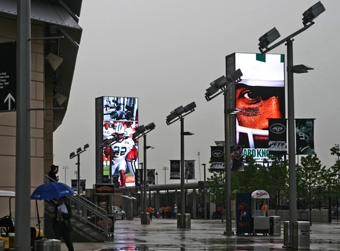 Daktronics (Nasdaq – DAKT) of Brookings, South Dakota, has installed numerous LED displays in New York, New Jersey, and the surrounding metro areas over the years, and those displays will take center stage throughout the city as hordes of people descend near the Big Apple for the biggest sporting event of the year as the Broncos battle the Seahawks for football supremacy.
Playing host to this year's game, MetLife Stadium features more than 40,000 square feet LED video displays in and around the stadium that were designed, manufactured and installed by Daktronics. This includes four main video displays in each corner of the stadium, each measuring 30 feet high-by-118 feet wide with 12HD pixel layouts.
"In an era of enhanced television and video experience, the video-centric design makes the stadium environment superlative—the thrill of the live sporting event combined with the convenience of watching the game in your own living room," said New York Giants Chairman and Executive Vice President Steve Tisch.
Fans will flock to the New York area for this main event, but they will also be encountering many other locations in the area where Daktronics displays are prominent—the most prominent location being Times Square which will be hosting Super Bowl Boulevard.
Times Square contains the largest grouping of spectacular digital advertising displays in the world, many of which were manufactured by Daktronics. At the iconic Two Times Square, owned by Sherwood Equities, Daktronics LED video spectaculars dominate, reaching approximately 1.5 million pedestrians daily. The Xinhua and Hyundai LED spectaculars join global brands Prudential and Coca Cola to illuminate Tower Two. Other notable Daktronics-manufactured LED spectaculars in Times Square include new displays for SKECHERS and Inglot Cosmetics as well as the 70-foot-tall Anheuser-Busch display and the Sony/News Corporation display, both located at One Times Square. Download Daktronics Times Square Installation Map for more information on all our displays inside the Times Square area.
While arriving to the area, travelers will encounter any number of the more than 1,000 transportation focused Daktronics LED video displays within a 100-mile radius of MetLife Stadium. These displays are strategically placed along high-traffic roadways and at airports to show helpful way-finding information such as traffic congestion, alternate routes, flight statuses and other transit details.
Through the use of these displays and Daktronics partnerships with local airports and New York/New Jersey departments of transportation, port authorities and transit authorities, it is possible to guide visitors in the New York/New Jersey area to and from the stadium in the safest and most efficient manner possible.
Though the lights may not be as bright, Daktronics understands how great things arise from humble beginnings much like many of today's professional players got their starts in the recreational and high school levels of football. In New York and New Jersey alone, there are hundreds of Daktronics installations at local high schools and parks, including scoreboards, LED displays and audio systems. It is becoming more and more likely that the next MVP will have Daktronics equipment tracking every touchdown all through high school, college and in the largest professional stadiums across the country.
The journey to football's biggest game has been a long one for many players and fans alike. And this year in New York metro area, crowds of people will be entertained and informed, amazed by great plays and pulled to the edge of their seat during the action. Daktronics will be there for it all, both inside and outside of the stadium.
For more information, visit www.daktronics.com.