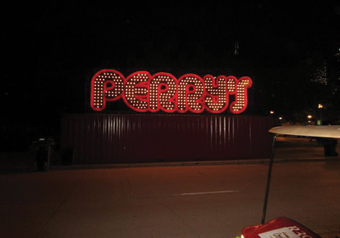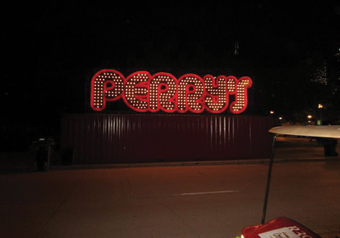 Jeff Wooten
The annual Lollapalooza music festival celebrated its twentieth anniversary this past August in Chicago's Grant Park with a mega-watt weekend line-up of acts that included the Foo Fighters, Eminem, Coldplay, and others. It also featured quite a line-up of electrifying signage, including brand-new seven-and-a-half-foot-tall illuminated letters.
This letter set sign was used to identify the 15,000-capacity "Perry's Tent" section of the park (a separate area for more dance-oriented type of music). It featured over 300 incandescent bulbs pulsing in sync to the music thanks to their being wired to seven circuits.
The sign-building maestro responsible for this illuminating presence was Jay Gordon, owner and operator of Blackout Signs & Metalworks in San Marcos, Texas. Gordon's shop specializes in building custom signage, architectural ironwork, event site enhancements, and more. In fact, Blackout Signs pretty much does it all—design, hand-painting, fabrication, installation, etc.
Gordon is a die-hard fan of the old-school method of sign making, and it's a concept his shop has fully embraced. You won't find any CNC routers, vinyl cutters, or CAD software here. "We do most everything by hand—using tools like grinders and welders," he says. "I think that gives us a niche against other sign shops."
Gordon mentions that his shop does "special, weird stuff" that attracts a certain type of customer. The majority of his clients are architects and designers, and Gordon states they come to him via word of mouth. You won't find his business's number in the local phone book. "People will sometimes see our finished work and ask the owner who did it," he says. "Or when people talk to us out in the field, we'll send them to our Web site. We've designed it so that it gives a good representation of our aesthetic."
This is actually the fifth year Gordon and his business have worked on signage for Lollapalooza. "We started out with a small project decorating some scaffold towers, and it grew from there," he says. "We've dressed up the festival with large sculptures placed on top of the scaffold towers to forty-foot-long main entrance signs using LED and neon."
Gordon first caught the attention of Lollapalooza organizers through his shop's relationship with a company that puts on music events across the country—such as for Red Bull and the Austin City Limits Music Festival. "We did all the signage for a Red Bull event called X-Fighters, which [Lollapalooza producer] C3 Presents attended," says Gordon. "They noticed our work, and the rest is history!"
Earlier this year, Ben Blocker, head of the creative department at C3 Presents, handed Gordon an initial sketch idea drawn up on the computer showing what they'd like to use as signage at the Perry's Tent section. Note: This section was named after Jane's Addiction lead singer and Lollapalooza founder Perry Farrell.) "We figured out was—and was not—realistic and what would fit into their budget. We then proceeded to figure out the engineering and how to make it fit on a temporary structure," says Gordon. "We also were able to figure out how to light it up and get it to blink."
Blackout Signs constructed the sign in three pieces (P-E, R-R, and Y-'-S). Gordon and his team spent two-and-a-half weeks of fourteen-hour-days, "balls-to-the-wall" building in the scorching Texas heat (sometimes reaching over 105°F) to finish the sign and send it to Chicago in time for the festival's opening.
In addition to Gordon and his wife Darcy Hanna, fabricators Angel Martinez, Ben Williams, and Doug Evans and painter Shay Miller work at the shop, and all contributed to this project. "Everyone is very versatile," he explains. "No shop is just one person, and no one person here is just a painter or just a welder.
"So many people here worked on the sign. They're the unsung heroes of what they do."
The Perry's sign is an illuminated exo-skeleton. "We formed the letters with aluminum and aluminum faces," says Gordon, noting that the back of the letters feature a triangulated steel frame for added strength.
Drilling holes onto the letters for lighting placement followed. Since the sign features 300-plus classic 11W incandescent bulbs, the sign employs classic-style bolt circuits (perfectly reflecting Gordon's old-school philosophy). "We then wired each letter to its own twenty-inch circuit and then plugged them into a lighting controller interface from the soundboard," explains Gordon.
To get the tubing to conform to the letters, Gordon and his team approached things a little differently. "We chopped and sliced with a metal chop saw the same way someone would make a channel letter with notchers," he says. "We used brakes, jigsaws, welders, grinders, and rivets. It was pretty basic for us."
While the backgrounds of the letter faces were spray-painted black, Gordon's crew painted their outline red. "There's a lip around the sign that projects three inches from the face. That's a classic trick passed down from older generations," states Gordon, "to play with that light and capture it inside there. They probably saved about $3,000 with this extra two inches of material that didn't cost that much."
Blackout Signs finished fabrication the day before it was scheduled to go out to Chicago in a forty-foot-long shipping container on the back of a flatbed truck. "We bolted it to the floor of the container," says Gordon. "There were hooks and different ratchet-down points on that back steel frame to tie everything down.
"It didn't move a millimeter from here to there."
Upon seeing the shipping container, one of Gordon's employees approached him with the idea of using it as a base to mount the finished sign on-site. Gordon loved the idea, so Blackout Signs built and welded an I-beam structure on top of the container onto which to bolt the letters after they were unpacked.
At Grant Park, Gordon and another shop worker collaborated with union riggers and local construction people to set the letters via forklifts onto the I-beam structure. Installation here only took an hour-and-a-half.
Graffiti artists were then brought in to paint the shipping container, with crowds watching their progress over the sell-out three days of the festival. The end-result successfully attracted concertgoers over to this area. "Not only was it a good meeting point for attendees," recollects Gordon, "but we found that people were standing in front of it constantly as a photo op."
Feedback was phenomenal (reaching an "eleven" on a scale of one-to-ten, with all apologies to Spinal Tap). "[Farrell] was super-excited about the sign," says Gordon. "And we saw tons of pictures of it appearing on Facebook and Flickr. Everybody loved it!"
Gordon laments that a lot of artistry has been lost in the sign industry, so he always aims for his shop's hand-made creativity to serve as a "long-distance" inspiration to others. "My hope is that our work affects just one other person in our industry to put down his computer, go pick up a brush, and push his boundaries a little bit more," he says.
All photos courtesy of Blackout Signs & Metalworks.