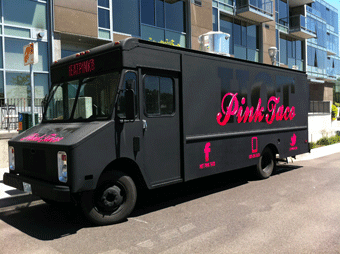 With 2,352 votes, Matt Fishler of MotoGFX.com in Beaverton, Oregon, has been named the October People's Choice winner of the 2011 Roland Creative Awards for North America. MotoGFX's winning partial truck wrap was voted number one by site visitors from more than 100 regional entries, winning Fishler a16 GB Apple iPad2* and Roland headphones.
Produced using a thirty-inch Roland VersaCAMM SP-300V inkjet printer/cutter, the MotoGFX wrap combines vibrant hot pink and glossy black lettering to make the Hot Pink Taco lunch truck a standout among the local competition in Portland, Oregon.
The Roland Creative Awards global design contest has received more than 370 entries worldwide from 14 participating regions, with entrants competing for monthly People's Choice awards, as well as the grand prize trip to Japan and a machine of their choice. Entries are being accepted through December 31, 2011.
To submit your best work, or to join in the vote for this month's North American People's Choice winner, please visit the Roland Creative Awards official site at www.rolandcreativeawards.com.