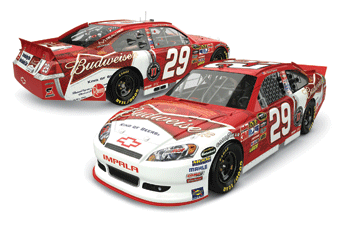 Roland wide format inkjet printers and printer/cutters have created a whole new look for Richard Childress Racing's No. 29 Chevrolet, to race this weekend when the Chase for the Sprint Cup continues at the newly repaved Phoenix International Raceway.
Selected to wrap all RCR race cars and trucks, Roland inkjet printers and printer/cutters work around the clock to deliver the team's championship look. "Having Roland inkjet printers on site allows our graphics team to keep up with the fast-paced world of NASCAR racing," said Nick Woodward, graphics manager for the RCR Graphics Center. "Our vehicle wraps change several times throughout the season. In fact, sponsorships can change from race to race. Having the speed to turn graphics around quickly is a key to our success."
RCR fans can catch all the action this Sunday, November 13 at 3:00 p.m. EST, when the No. 29 Chevrolet, driven by Kevin Harvick, will sport the new graphics. Patterned after sponsor Budweiser's new "Bow Tie" can design, the wrap features a dynamic red color scheme produced on the team's SOLJET PRO III XC-540MT 54-inch printer/cutter. RCR's Graphics Center features Roland's most advanced devices for vehicle graphics, including the CAMM-1 Pro Series GX-640 vinyl cutter, SOLJET PRO III XJ Series inkjet printer and a VersaCAMM VS wide-format printer featuring Roland's award-winning Metallic Silver Eco-SOL MAX ink.
Live coverage of the event will be televised on ESPN. To watch the pros at RCR "speed-wrap" the No. 29 car in a sixty-second time-lapsed video, as well as view a video-recorded interview with RCR's Nick Woodward, visit www.rolanddga.com/rcr.