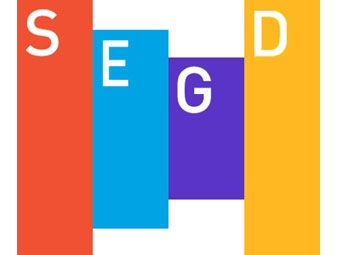 Winners in the 2014 SEGD Global Design Awards—the only international design competition focused on visual communications in the built environment—will be awarded in five new categories representing how experiential graphic design impacts the world.
Since 1987, SEGD's Global Design Awards have honored design that connects people to place by providing direction, content, and compelling experiences in the places where they work, play, learn, travel, shop, and gather.
Beginning this year, winning projects will be chosen from new categories including: Wayfinding, Placemaking and Identity, Exhibition, Public Installation, and Research/Strategy/Planning. In each category, Honor, Merit, and Jury awards will be presented and a "Best in Show" will be chosen from the Honor winners in each category.
"We want to make sure our design program reflects the full and expanding spectrum of work across experiential graphic design," says Clive Roux, SEGD's CEO. "These categories represent not only the 'traditional' aspects of EGD, including wayfinding, exhibitions, and branded environments, but also encompass the emerging world of digital applications that is rapidly changing the face of the discipline."
In addition, Roux notes, "As a field, we are dedicated to evidence- and research-based design and encourage entries that reflect work in design research, strategy, and planning."
Past winners in the SEGD Global Design Awards have encompassed a broad range of projects, from contemplative public art (the One-Day Poem Pavilion, 2008) to bustling transportation hubs (Santa Monica Civic Center Parking Garage, 2008) to hospital wayfinding (Randall Children's Hospital, 2013) and multimedia exhibitions (IBM's Think: An Exploration Into Making the World Better, 2012).
"The SEGD awards program represents a convergence of many disciplines including graphic designers, architects, information designers, exhibit designers, interactive designers, and artists, and define the best of work in experience design," says Alan Jacobson, the 2014 Design Awards Chair and founder and president of Philadelphia-based experience design/strategy firm ex;it and brand/communications firm J2 Design Partnership.
"Organization leaders, developers, and city planners have come to understand the impact of this work on their brand and identity and the customer and visitor experience they deliver. This work has proven economic impact."
The 2014 jury also represents the multidisciplinary, collaborative nature of experiential graphic design, representing architecture, landscape architecture, graphic design, media development, and branding:
Ceyda Artun, graduate of the MFA in Graphic Design program at Anadolu University, Turkey, and 2013 SEGD Global Design Award winner
Ken Carbone, co-founder and chief creative director, Carbone Smolan Agency
Hilary Jay, design curator, journalist, and director of The Philadelphia Center for Architecture
Zelda Harrison, branding and communications consultant and former president of AIGA's Cross Cultural Design program
Matthew Littell, principal in the Boston-based architectural and planning firm Utile
Clifford Selbert, landscape architect and co-founder of Selbert Perkins Design
Min Wang, dean of the School of Design at China's Central Academy of Fine Arts, and design director for the Beijing 2008 Olympic Games
Alina Wheeler, author of Designing Brand Identity: An Essential Guide for the Whole Branding Team
The deadline for entries in the 2014 SEGD Global Design Awards program is January 31, 2014, with a late deadline of February 14, 2014.
Winners will be announced at the 2014 SEGD Conference: Convergence June 5-7 in Atlanta and will be featured on segd.org and in eg magazine. For online entry and an archive of award-winning projects, including photos, project descriptions, and jury comments, visit http://segd.org/awards.