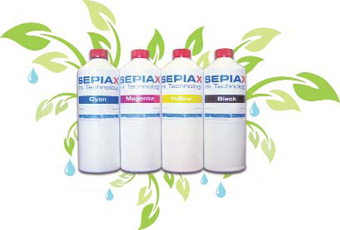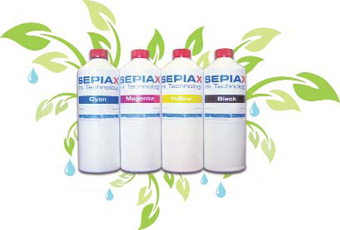 Graphics One, LLC (GO) is pleased to announce that SEPIAX has succeeded in leveraging its leading position in eco-resin inks and welcomes yet another standard to the market—the newest green ink solution.
December 1, 2010 saw the Global Harmonized System of Classification and Labeling of Chemicals (GHS) of the United Nations come into effect. The GHS is a system for standardizing the classification and labeling of chemical substances with the end purpose of protecting human life and the environment against toxic materials. The tangible outcome of the GHS is Material Safety Data Sheets (MSDS), the proper labeling of harmful substances contained in any chemical product.
With a focus on promoting truly green products, SEPIAX is proud to announce its alignment with the GHS as the first ink company to demonstrate adherence to this standard, and all those looking to promote quality products that do not detract from the beauty and health of our world
SEPIAX ink began its life as one of the most environmentally-friendly inks in the market and continues to surpass environmental expectations. SEPIAX valiantly leads the way setting an example against the practice of "greenwashing," or "disinformation disseminated by an organization so as to present an environmentally responsible public image," all too common in the ink industry.
Because of SEPIAX's pure eco-friendly composition, MSDS sheets are not required for SEPIAX. SEPIAX exceeds all international environmental regulations.
"We are very happy to not only fulfill the requirements set by the GHS, but maintain them through our core belief of providing exceptional green products," says Karl Ebner, Marketing and Sales Director of SEPIAX.
The new and improved SEPIAX aqueous ink solution offers a faster drying time, improved dot gain, stronger primary colors and an overall wider color gamut. The upgrade is compatible with current SEPIAX ink and can be used with already functioning machines. The SEPIAX ink
upgrade is available immediately from Graphics One.
Eleven Facts about Sepiax Ink:
1. Compatible with the United Nations GHS Standard for environmental responsibility; Adheres to all international environmetal regulations
2. Prints on virtually any substrate*
3. No substrate coating needed
4. Water based resin with exceptional pigment properties
5. Eco-friendly, non-toxic, non-flammable, odorless
6. Ink 30-50 percent less for same coverage
7. Adhesion and durability rivaling eco-solvent
8. Outdoor durability up to three years
9. Clog reduced formula
10. Compatible with all EPSON piezo printheads
11. Not ordinary latex—It's better.
*Substrate surface must be between 45°C-55°C
For more information, click here.