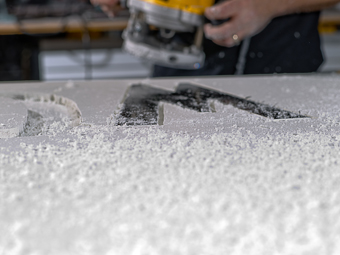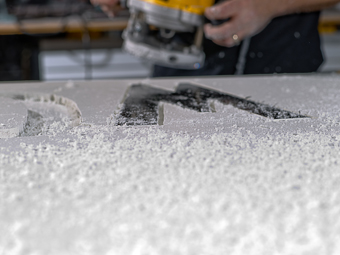 Vycom's Celtec® family of graphic and display materials is designed with a unique combination of features that makes them ideal for digital and screen printing, signage, displays and fixtures, trade show exhibits, P-O-P, and more.
Available in a variety of sizes and colors including oversized sheets, Celtec is lightweight, easy to fabricate, paint, or laminate and has excellent fastening characteristics. It also has superior UV performance, digital printability, precise die-cut ability and can be thermoformed.
According to sign firm owner Andy Dubbs of Metal Logos and More in Ralston, Nebraska, "Celtec materials hold paint extremely well and cut and rout like butter. They truly perform for my retail and commercial clients, from retail and auto shops to indoor hockey rinks. I use Matthews Paints, which covers Celtec's edges extremely well and the final result is always highly professional."
Dubbs likes the material's ability to easily glue, add layers, and rout with his in-house CNC router to achieve a 3-D look. He finds Celtec products easier to work with and more cost-effective than aluminum or metal.
As for the harsh elements outdoors, Celtec® Ultra White is ideal for outdoor retail signage. It can be digitally and screen printed and has superior UV performance, a high gloss finish, and no pre-treatment needed. It can also be thermoformed and has excellent impact properties.
Meanwhile GWP Advertising of Montclair, New Jersey hired Darrin Dubrow, owner of Sign Me Up in nearby Livingston, to create an outdoor sign sporting their new logo. "GWP is a very hip, forward thinking agency and wanted their new logo and company sign to reflect their style," said Dubrow. "I was able to achieve intricate, curved retro lettering with a hand router using the Celtec Ultra White, which also accepted the metallic-look paint very nicely."
Celtec PVC materials are lead- and heavy metal-free, which allows them to optimize performance while being better for the environment. Vycom is committed to sustainable methods of operations and manufacturing at all levels. With short lead times for customization, Vycom manufactures all materials in the USA.
A new downloadable Celtec brochure is available on the Vycom Web site at http://www.vycomplastics.com.
With a twenty-five-year legacy of product quality, Vycom has six distinct product families serving a diverse mix of markets. In addition to Celtec®, other Vycom products families include: Corrtec chemical and corrosion resistant materials, Flametec® for clean room cabinetry and benches, Seaboard® outdoor furniture and marine components, Playboard® sheet for modular recreational and playground systems, and Sanatec® food processing and cutting board materials.
Vycom, a division of CPG International, is dedicated to maintaining an environment where quality meets performance. Vycom offers the largest range of products, capabilities and inventory for all your Olefin and PVC needs. For more information, visit