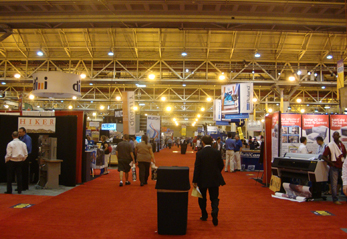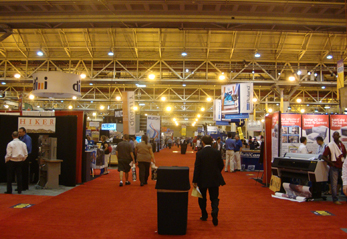 The 2011 SGIA Expo in New Orleans just wrapped up last week. Were you unable to make it down to the Big Easy for the show? Well look no further than our show wrap up!
SGIA by the Numbers
The show floor was sold out for a whopping 167,350 square feet packed full of 456 exhibits featuring the latest in specialty imaging technology.
In terms of the attendees roaming the show floor, 16,006 people showed up for the Expo, and 36 percent of these were first-time attendees. The overall number of international registrants was 2,420.
Pre-Expo
SGIA presented its second annual Pre-Expo Business Development Conference on Tuesday, October 18, the day before the Expo floor opened. Attendees learned tactics and tools to differentiate their business in crowded markets and manage their sales efforts to increase profitability.
Sessions were presented by David Fellman of David Fellman and Associates, who opened the Conference with a presentation titled "Beyond Print: Bringing Profitable Value-Added Services into Your Business." Brian Hart and Clayton Marsh of Hart Consulting presented "Determine Your Value to Improve Your Core Messaging," and Mark Coudray of Coudray Graphic Technologies wrapped up the Conference with "Marketing Approaches for Today's Businesses (and Tomorrow's)."
Hart sounded a positive note at the Conference. "There's 30 percent more work out there for retailers to do, with 30 percent less staff for them to do it," he said. "So what they are looking for right now are partners that they can bring on to fulfill those needs. Although the economy doesn't prove it, there's more opportunity for graphic communication companies than before."
The next Business Development Conference is set for May 15-16, 2012 in Chicago.
Award Winners
SGIA presented a number of awards during the Expo, including the Golden Image, Product of the Year, and appreciation awards. Here's a summary of who took home bragging rights.
Golden Image Awards
This annual competition celebrates industry-leading excellence and covers almost every item created by specialty imaging. Gold, silver and bronze ribbons were awarded to the best prints. This year's highest honors were given to select winning entries, including:
• Best in Digital Creativity: "Angels Pillow Cover," Varsha Transprint (Mumbai, India)
• Best of Show Digital: "L'Oreal NutriShine Decal," Spectrum Scan Pvt Ltd (Mumbai, India)
• ASPT Best of Show Graphics: "Inmold Capacitive Touch with LED's Control Panel," Canyon Graphics Corporation (San Diego, California)
• ASPT Best of Show Garments: ""MAN VIEW CHANGE," Tarun Print Tech (Sewri Mumbai, India)
• People's Choice Award: "Ten Bridges" by Liudmila Kondakova, Kolibri Art Studio (Gardena, California)
View the complete list of Golden Image winners at SGIA.org.
Product of the Year
Showcasing the best in digital imaging products that keep the specialty imaging industry moving forward, the Product of the Year winners benefit from worldwide recognition. Here are a sampling of the winners:
Digital Inks: Roland DGA Corporation, ECO-UV S Ink for VersaUV LED Wide-Format Inkjet Devices
Media-Vinyl: ILFORD, ILFORD BioMedia Display Film
Media-Films: Asphalt Art USA, Asphalt Art
Media-Textile: Visual Magnetics, Visual Magnetics VM-Canvas™22
Test Print Shoot Out categories:
Poster size-Solvent/Latex printers < 96″: Mimaki USA Inc, JV33 – 130
Flat Bed-Rigid Substrate UV <$200K MSRP: Mimaki USA Inc, JFX-1631
Flat Bed-Rigid Substrate UV >$200K MSRP: EFI, EFI VUTEk GS3250LX
Flat Bed-Rigid White Ink UV <$200K MSRP: Océ Display Graphics Systems, Arizona 360 XT
For a complete list of winners, visit sgia.org.
Support Awards
For their generous support and contributions throughout the year, SGIA presents awards and certificates to member companies and affiliates. Here is a sampling of who was honored:
Outstanding Service Awards
Rutland Plastic Technologies Inc., Shur-Loc Fabric System, NEWMAN ROLLER FRAMES mfg by Stretch Devices Inc., Murakami Screen USA Inc., OYO Instruments LP, Great Dane Graphics, PMI Split Tape, Sefar Inc., KIWO Inc. (Kissel & Wold GmbH), BBC Industries/Black Body, GraphicElephants.com, Wilflex Inks Mfg by PolyOne Corp., All American Mfg & Supply, AnaJet Inc., Axiom America, BelQuette Inc., Brother International Corporation, Conde Systems Inc., Delta Apparel, Gans Ink and Supply Co. Inc., Geo Knight & Co., Graphics One LLC, HIX Corporation, Insta Graphic Systems, Lawson Screen & Digital Products Inc., MESA Distributors Inc., Next Wave Media Solutions, Roland DGA Corporation, Stahls' ID Direct, M&R Companies, Vapor Apparel/Source Custom, Caldera Graphics, ColorGATE Corporation, ErgoSoft US, Hewlett Packard Company, ONYX Graphics Inc., SA International, Wasatch Computer Technology LLC, ColorBurst Systems, X-Rite, Proactive Technologies and IntelliCoat Technologies.
Safety Awards
For their dedication to safety in the work environment, SGIA awarded the following companies with the Safety Recognition Certificate:
Ad Graphics Inc., Avery Dennison Graphics & Reflective Products Div, Central Decal Company Inc., Classic Decal Company Inc., Classic Stripes Pvt Limited, Craft Originators Inc., DuraColor LLC, Ferrari Color, Global Products Inc., Graphic Ad Ltd, Lil' Dogs, Meisel, Nameplates For Industry Inc., Nelson Nameplate Company, Nortech Graphics, North American Decal, Nutron Nameplate Inc., Portland Color, PRATT, Prime Source Inc., PSP & Digital Inc., Sanca SGC S A, Sign-Age of Tampa Bay Inc., Signcraft Screenprint Inc., The Mitographers Inc., Transfer Express Inc., Kar-Go Decal Co. Inc., Voss Signs LLC and Yunker Industries Inc.
Sustainability Recognition Awards
ARC Southern California, Aurora Specialty Textiles Group Inc., conVerd LLC, GFX International, Insta Graphic Systems, Kent Pad Printer Canada Inc., Laird Plastics, Marabu GmbH & Co. KG, MicroGREEN Polymers Inc, Modernistic, OAI Inc., Portland Color, Precision Images, Primex Plastics Corporation, Rainier Industries Ltd, RockTenn Merchandising Displays and Serigraph Inc.
Looking Ahead
At the show, SGIA made the announcement that the annual Printed Electronics & Membrane Switch Symposium will now be integrated into the SGIA Expo starting next year in Las Vegas. The Symposium is typically held in the spring, but now printed electronics and membrane switch professionals looking for the latest technology updates and new innovations can also take advantage of all the SGIA show floor has to offer.
The newly formatted Symposium will include a series of high-level education programs and networking events for attendees. There will also be a designated headquarters hotel near the convention center to encourage networking with industry peers.
For more information about the Symposium, contact Ray Greenwood, SGIA's technical service associate, at [email protected].