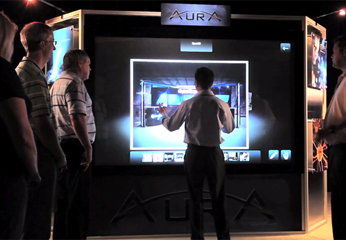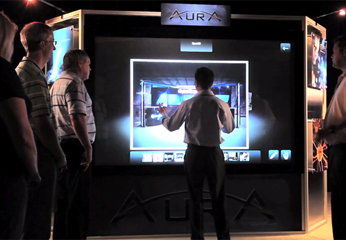 Drawing a crowds' attention is often not easy, especially in the tradeshow marketplace. With emerging technology, an opportunity now exists to change the course of display design for the better. Enter HiGear Innovations'
Aura
, the world's largest multi-touch widescreen display that not only attracts people, but also engages them. The new product is now available to companies looking to amp up their presence at any large tradeshow or marketing event.
"With Aura, we deliver the 'WOW factor' by taking proven technology and syncing it with immersive content that both engages the users and helps to convert them to customers. That's what makes Aura unique; it both entertains and efficiently conveys the message, all while the users enjoy themselves interacting with this exciting technology on a 100-inch screen," said Jeff Sullivan, president of HiGear Innovations.
More than a widescreen display, Aura brings interaction to life. At 100 inches, it is the largest multi-touch display of its kind on the market. Aura creates a spectacle on the show floor; people cannot pass by without taking notice. The sleek appearance grabs a consumer's eye and pulls them in for a closer look. The immersive interactive content keeps people from simply leaving too quickly. As crowds gather, Aura's powerful processing and software package effortlessly engages multiple users interactions simultaneously. And in the midst of inundating lights and sound, the Aura's standard 12,000 lumen projection system shines bright, demanding attention from every angle. In addition there is an upgrade option for Aura to over 24,000 lumens, which amps up the experience further.
"More and more clients lately have been asking for interactive products, so HiGear was created with the specific purpose to help develop and provide products that fit the needs of our clients and stand out in the marketplace for excellence and innovation," says Sullivan.
Product Specifics:
12,000-lumen projector system, expandable to 24,000 lumens.
Powerful custom-built computer delivers complex content with ease.
Flagship multi-touch software allows for easy drag and drop placement of content for a slick carousel format presentation. Users can easily access video, images, web and flash content seamlessly, without exiting the program.
Customized software opens you up to endless possibilities, including RFID and Bluetooth integration.
400-Watt professional audio system with subwoofer and mixer. There is a separate input for a wireless mic, which comes in handy during a presentation when addressing a larger audience.
Built as a small island tradeshow exhibit, measuring roughly 12 feet L x 7 feet W x 8 feet high, Aura was designed to be viewed in the round.
The sides of the unit can act as separate presentation areas, and house the stand-alone custom counters with locking storage. Small touchscreens, such as our Display Shopper® product, can be outfitted on these, making Aura a completely immersive environment.
Graphic opportunities abound, and each area can be a branding opportunity or contain shelving for product display/demo.
Breaks down easily for transportation and ships inside durable locking cases.
Locking equipment/storage access door in rear
Aura is available now for purchase or rental. It comes in two models which retail for $85,000 and $99,000, depending on the options. The price of each includes white glove technical support to assist with the first setup at the venue. The rental price is $18,795 per show, which also includes technical assistance in setting up. Leasing can be handled through a 3rd party alliance partner, if desired.