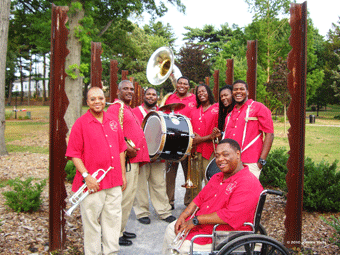 After the Specialty Graphics Imaging Association Expo on Thursday, Oct. 20, in New Orleans, walk across the street to the Howlin Wolf and check out Voodoo Octoberfest, a benefit show for the New Orleans Musicians Fund. Scheduled to take place from 5 p.m. to 8 p.m., this industry party will have food, fun, and lots of great music in the famous New Orleans tradition.
Scheduled acts include Irma Thomas (soul), Davis Rogan, and the Hot 8 Brass Band (R&B, urban soul). Tickets are $30 and can be purchased in advanced at http://tinyurl.com/3kxb498. Tickets also will be available at the door. The Howlin' Wolf is located at 907 South Peters.
In keeping with his tradition of organizing a fund-raising event on behalf of New Orleans musicians when SGIA is in town, Rick Roth, owner, Mirror Image, Pawtucket, Rhode Island, along with Jacob Edwards and Dameon Guess of Jakprints have organized this benefit to raise money for the New Orleans Musicians Assistance Foundation (NOMAF). For the screen printing industry, this is a benefit that fulfills the promise of a big benefit that was planned in 2005 that was washed away along with the 2005 SGIA show and much of New Orleans by Hurricane Katrina.
The NOMAF is a non-profit organization that offers struggling musicians access to health and social services regardless of their ability to pay. An intrinsic part of the city's traditions and culture, these artists depend on this assistance to remain alive and well. Roth and Edwards note, "The industry has focused on supporting this organization, because they accomplish so much for so many, with so little money, and so little overhead."
In addition to the party, Voodoo Octoberfest shirts designed by artist Brian Lessard will be printed by Mirror Image with the generous support of Hanes. Shirts will be sold at the show. After the show, this design (as well as several other New Orleans-themed designs) will be sold at indiemerch.com. In all cases all proceeds will be donated to the NOMAF.
The main sponsor for this event is Hanes Printables with other sponsors including Rutland Ink, Hirsch International, KIWO, Easiway Systems, Jakprints, Saati, Printwear, OLEC, Mirror Image, Stretch Devices and Douthitt. Additional support has come from Boston Beer, S & S Activewear, Etchomatic, Multicraft, Uniowear.com, Price-it Software, and www.theshirtboard.com.
Can't make it the party? Go to www.theshirtboard.com for post-event news and photos as well as information on where you can purchase shirts. Donations also can be sent directly to NOMAF at 1525 Louisiana Ave., New Orleans, La 70115 or online at NOMAF.org.
For more information, visit the Voodoo Octoberfest Facebook page at http://tinyurl.com/3sqcfu5/.