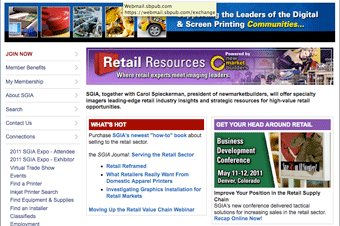 SGIA's retail initiative is in full force with the Retail Resources page. In conjunction with SGIA's retail expert Carol Spieckerman, president of newmarketbuilders, this exclusive online tool is a retail hot spot for imagers to get the latest information about the growing retail sector.
Since its debut earlier this year, the highly beneficial Web page has served as the "go-to" resource for imaging professionals who are searching for up-to-date retail headlines, feature articles, and access to SGIA's retail events. Spieckerman and her team continually update the resource page to offer imagers the most current news and information available about the retail sector.
Spieckerman also is presenting a free SGIA Webinar: "Winning Retail Sector Strategies for 2011 and Beyond" on Wednesday, August 17 at 2:00 pm ET. Hear an overview of today's retail landscape and dive into tools and strategies for driving differentiation, redefining strategic positioning and moving up the value chain with major brands and retailers.
And don't miss Spieckerman's educational session on October 19 at the 2011 SGIA Expo (New Orleans, October 19-21) titled, "The New Retail Playbook: Ten Tactics for Ramping up Your Retail Relevance in 2012."