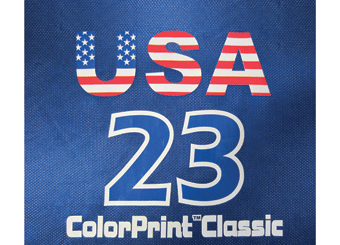 As one of Siser's® most popular digital materials, ColorPrint™ Classic is extremely opaque and colorfast and can be used on any color garment. Its slightly thicker weight makes it popular for a wide range of team wear, and it blocks most dye migration on polyester sublimated jerseys.
ColorPrint™ Classic is a digital print-and-cut media that can be used with eco-solvent and solvent inks contour cut for heat-seal application to 100 percent polyester, 100 percent cotton, or any cotton/polyester blend fabric. It creates beautiful full-color designs with intricate detail, vivid brightness and is ideal for matching PMS colors.
This versatile material also is easy to use. It comes on a Mylar carrier that makes it simple to transfer cut pieces to the garment. Dry for four to six hours after printing.
For best results, apparel decorated with ColorPrint™ Classic needs to be washed cold using mild detergent. Never use bleach or dry-clean.
Siser North America, the world's largest manufacturer of heat transfer materials, carries a full line of heat transfer materials for use with cutters and print-and-cut equipment. For more information, call 866/301-9409, email [email protected], or visit www.siserna.com.