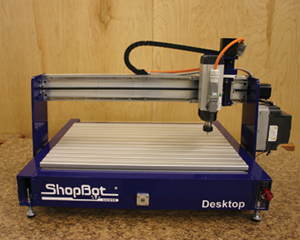 Formerly known as
Project: Tyro
, ShopBot's newest introduction to the automation industry—The ShopBot Desktop—is a small format CNC machine with a work area of 18-by-24-by-4 inches and movement resolution of .00025 with very little backlash.
More than just a starter CNC, the Desktop is a small format prototyping and production center. The Desktop system includes ShopBot PartWorks software (so it's fully compatible with other ShopBots and all ShopBot resources) and is available with a router or spindle option.
The ShopBot Desktop is an extremely capable machine for DIY applications; small, detailed engraving; complex 3D machining; and as a work-cell-based tool for value-added extras for projects or an addition to a garage or basement workshop.
The ShopBot Desktop uses includes free lifetime Web-based technical support and is designed, manufactured, and supported in the U.S. in the same facility that produces every ShopBot CNC system.
As well as having impressive woodworking capabilities, the Desktop has engraving-level precision and the power and rigidity to machine parts from plastic, aluminum and other materials.
For more information, visit www.shopbottools.com or follow http://twitter.com/shopbot.