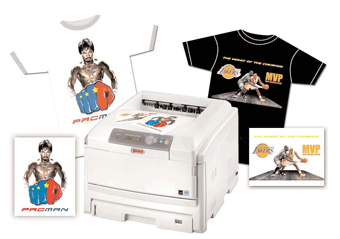 Graphics One, LLC (an international distributor dedicated to providing innovative, high-quality products to digital imaging professionals), OKI Data (the world's leading manufacturer of LED printers), and Neenah Paper (the preeminent transfer paper firm) announce an alliance in order to provide partners with world-class transfer printing technology not available previous to the launch of the GO UNO.
Combining cutting edge transfer technology and value pricing, GO, OKI, and Neenah bring to you the first LED transfer solution—the GO UNO LED Transfer Printer and Neenah Transfer Paper specifically engineered for the UNO.
The new GO UNO is a groundbreaking professional transfer offering combining performance, flexibility, and new capabilities. The best value in tabloid printing, the UNO excels specifically in printing transfers, but also prints documents in letter, tabloid, and fifty-two-inch banner formats in unequaled GO eColor.
Even with a compact design and small footprint , the GO UNO's proven LED platform enables tabloid color printing using eColor Technology with denser imaging for transfer than a traditional LED printer.
Even more, GO's Extended Edge Technology allows full transfer and tabloid printing with three extra inches of printing on the bottom.
What makes the GO UNO the ultimate transfer solution is its match of Neenah transfer paper for the UNO. Four varieties of transfer paper were designed by Neenah to utilize the enhanced and optimized advanced transfer capabilities of the UNO.
Gerry Rector, associate director at Neenah Paper, said, "Neenah Heat Transfer Paper performs exceptionally well using the new transfer technology offered by the GO UNO Printer. The GO UNO improves the color and the appearance of the transferred image using 8.5-by-11-inch and 11-by-17-inch. The OKI LED platform will revolutionize the transfer process."
"We are excited about this alliance with Graphics One and Neenah. Both have a tremendous reputation within the industry and were instrumental in developing this new LED transfer solution," said Rich Egert, general manager of the Strategic Technology Provider Business Group for OKI Data Americas. "Combining OKI's expertise in developing quality, reliable LED technology with Neenah's premium papers and Graphics One's ability to deliver these products to the textile and specialty graphic markets make this an ideal partnership."
"The GO UNO is the optimal solution for the transfer market, and we are expecting it to quickly become the industry standard. Reliability, speed, and new transfer technology (including rich GO eColor and GO Extended Edge Technology) make this product perfect for our distribution channel," shared Dan Barefoot, president of Graphics One.
Bring transfers to life with the first ever professional LED system for transfer. GO UNO: It's the professional's one and only.
The GO UNO will be shown at the 2011 SGIA Expo being held October 19-21 in New Orleans, Louisiana, and will be immediately available thereafter.