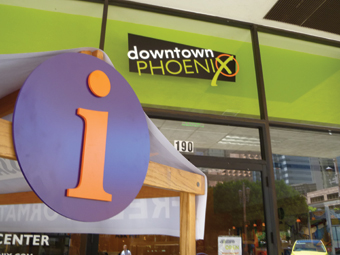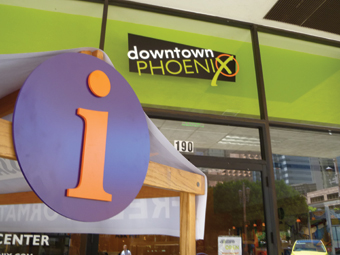 When you think of wayfinding, static signs that guide visitors through a city or large complex come to mind. While this type of signage will always be a mainstay of wayfinding, additional guidance is now being provided by technology, which works in conjunction with the physical elements of wayfinding.
West Chester, Pennsylvania-based MERJE Design works on both large and small wayfinding projects throughout the country, and the company integrates both traditional signage and technology into their projects.
"Originally graphic designers focused on 'architectural signage' and then shifted to be more inclusive of interiors and architecture [and] integrating graphics into the environment," says John Bosio, principal at MERJE. "Now wayfinding includes layering on a multitude of technology tools—from Web sites and interactive kiosks to mobile apps, QR codes, and text messaging."
Like many other wayfinding companies in business today, MERJE focuses on a smorgasbord of environmental graphic design projects, including interpretive exhibits, donor recognition, maps, and landmarks. They also collaborate with technology experts, landscape architects, and transportation planners for larger projects.
Instead of presenting a "cookie-cutter" response to each wayfinding project, the firm approaches each job holistically, taking into consideration the range of wayfinding tools that might work.
Bosio's team investigates the range of possibilities, even if this isn't part of the original project scope. "The solution may be a large wall graphic that reinforces the client's brand, a mobile app that helps visitors discover a new art gallery, a piece of public art that creates a landmark, or a traditional printed map," he says. "The goal of the client is to help people find their way and promote the client brand across a variety of communication tools. It's our job to consider everything, not just signs."
With a background in traditional graphic design, Bosio, early in his career, worked for a design+build sign company and eventually moved onto a large architecture firm. "We established MERJE as an independent design firm, so that we could expand beyond signage and create completely integrated wayfinding and identity solutions," he says.
The company's clients include cities, tourism organizations, higher education, libraries, healthcare, corporate, hospitality, and retail. Bosio finds clients understand that wayfinding signage is part of their overall communications package and provides a positive experience for their visitors. "This, in turn, creates repeat visitation and positive word-of-mouth about a place or institution," he says.
Of course, the more the environmental design firm can hold the "big picture" for a client—including branding and a unified design scheme—the more value they can offer. Further integrated offerings include architecture, design/build, interiors, and lighting.
As an example, one of MERJE's recent projects included a wayfinding program for downtown Phoenix, created for the Downtown Phoenix Partnership. The project was a comprehensive program comprised of vehicular and pedestrian directional signs, manned kiosks, orientation maps, and banners and graphics for the visitor center.
For this job, MERJE Design utilized customized Holophane sign poles, JDSU ChromaFlair® paint, and perforated back panels. "The ChromaFlair is a prismatic paint detail on the back of the signs that plays with the sunlight, and depending on your viewing angle, it shifts color," says Bosio. "It's a little hidden effect we added to the posts."
Bosio adds that the design process was very detailed and included an initial temporary pilot program that was installed for the 2009 NBA All-Star Game. "Based on our findings during that two- week installation, adjustments were made—including color changes, locations, and sign configurations," he says. (Note: The temporary signs were fabricated by Zumar Industries, and the full permanent sign program was designed by Smith Craft Custom Signs of Phoenix.)
MERJE works with contractors to specify materials, construction details, and installation methods. During the important shop drawing phase, the firm works with fabricators to consider alternate methods, while maintaining the design intent.
In terms of manufacturing, Bosio says that his team isn't tied to a single manufacturing process or product. "We're
utilizing pretty standard materials and processes," he says "We do typically specify Matthews paints and 3M vinyl products. Color Kinetics is a very good lighting fixture we've used for gateway elements and lighting effects.
"We've also utilized solar power for kiosks and gateways."
Bosio says that incorporating technology into their wayfinding is commonplace in today's market. Wayfinding today requires an approach that illuminates not just the physical path of the visitor but the virtual path as well. This might mean a mobile application that gives tourist information on landmarks in a historic town or an interactive information kiosk strategically placed for visitors.
For example, a project might include interactive maps, touchscreens, mobile apps, text messaging, and Google Earth. "These are all part of our toolbox, with the goal of presenting these offerings together with the signage as a single graphic language and as part of a consistent wayfinding program," says Bosio.
Bosio believes the coolest part of a wayfinding program is the problem-solving aspects. "Wherever there's a city, a campus, or a building that presents a unique condition or challenge are our most enjoyable projects," he says.
Photos courtesy of MERJE Design.