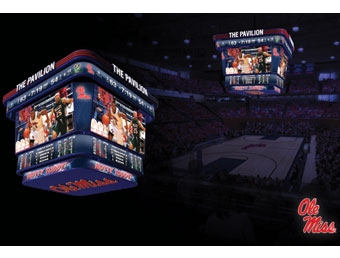 Daktronics of Brookings, South Dakota, has partnered with the University of Mississippi to design, manufacture, and install the largest centerhung video display system in terms of total square footage in college sports with a total of roughly 2,255 square feet of active LED display space. Installation is taking place this summer prior to the opening of The Pavilion at Ole Miss.
"We're excited to partner with Daktronics to bring the largest centerhung video board in college basketball to The Pavilion at Ole Miss," said Ross Bjork, University of Mississippi Director of Athletics. "The amenities of the Pavilion, especially the video and audio experience, will provide our fans with a world class entertainment destination in heart of the most beautiful campus in America."
The centerhung configuration will consist of 11 video displays for a total of more than 3.6 million LEDs. It includes four main video displays, each measuring approximately 11.5 feet high by 22 feet wide, and four corner displays each measuring approximately 13.5 feet high by 5 feet wide. These displays feature a tight 6 millimeter line spacing and wide angle visibility ensuring a clear, crisp image from any seat in the facility. Variable content zoning allows the displays to show a single large image or be divided into separate windows filled with any combination of live video, instant replays, up-to-the-minute statistics, animations, scoring information and sponsor highlights.
Three ring displays will be incorporated in the centerhung configuration. They will measure roughly 3 feet high-by-116.5 feet in circumference, 4 feet high-by-91.5 feet in circumference and 3 feet high-by-83 feet in circumference. All of the ring displays feature a 10 millimeter line spacing. The installation will also include a large fascia display with 15 millimeter line spacing that measures roughly 2.5 feet high-by-586 feet wide and a box office display with a 6 millimeter line spacing that measures roughly 9 feet high-by-16 feet wide. These displays can be used to show versatile content to enhance the game-day atmosphere and highlight sponsors.
"We're proud to partner with Ole Miss to bring a top-notch video display system that will contribute to a great game-day atmosphere," said Daktronics Vice President of Live Events Jay Parker. "As the largest centerhung project we've ever done in the college market, we're excited to see the final installation having a positive impact for the fans early in 2016."
"It was a lot of fun to work on this project and we're honored to continue our long-standing partnership with Ole Miss athletics," added Andrew Rice, Daktronics sales representative.
Daktronics LED video and messaging display technology offers a long lifetime with consistent, industry-leading performance and low power consumption, providing value and excitement for years to come.