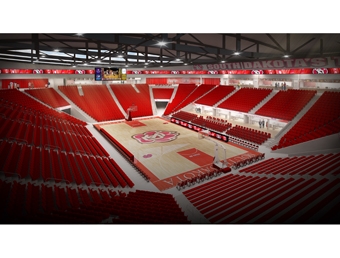 Coyote fans will be seeing exciting additions throughout campus in 2016 as the University of South Dakota has selected Daktronics (NASDAQ-DAKT) of Brookings to design, manufacture and install LED video displays and scoreboards at athletics facilities on campus in Vermillion.
The installation at the new Sports Performance Enhancement Complex includes new video, ribbon, and scorer's table displays, scoreboards for the new practice facility, a scoreboard for soccer, and a portable video display for track and field. The DakotaDome will also receive an upgraded video display.
"We are proud to once again partner with Daktronics to enhance our fan experience and in-game entertainment in our new facilities and the upgrades to the DakotaDome," said David Herbster, USD athletic director. "The Daktronics team developed innovative solutions in the design process to ensure our ability to deliver a world-class product in our new state-of-the-art facilities."
"We're proud to continue our long-standing partnership with the University of South Dakota as we continue to showcase our products in our home state," said Daktronics CEO Reece Kurtenbach. "The new video displays will provide enhancements to the overall experience of every event held in these venues at the university. We're excited to see the completion of their new facility and these displays having an impact in the upcoming seasons."
The arena will receive two displays that will each measure 8 feet high-by-21 feet wide. These will feature 10-millimeter line spacing to provide excellent image clarity and contrast with wide-angle visibility to appeal to every seat in the arena. Both displays incorporate variable content zoning to each show one large image or they can be divided into multiple windows to show any variety of live video, instant replays, up-to-the-minute statistics, graphics and animations, and sponsorship messages.
Two ribbon displays will be installed along the seating fascia on each side of the arena. Each ribbon will measure 2.5 feet high-by-366 feet wide and feature 15-millimeter line spacing. Four scorer's table displays featuring 10-millimeter lines spacing and each measuring three feet high-by-nine feet wide will be installed along the sidelines. They can be connected together in any combination to form one long display. The ribbons and scorer's tables provide the opportunity to supplement the content on the main displays as well as highlight sponsors throughout events.
The new complex includes an area dedicated to track and field events which will receive a portable video display that will feature 16-millimeter line spacing and measure approximately 9.5 feet high-by-17 feet wide.
The DakotaDome will also be receiving updated equipment as part of this project. The display being installed there will feature a 15HD pixel layout and measure approximately 17 feet high-by-56.5 feet wide.
All of these displays feature all the same capabilities as the main displays in the arena as they provide extra entertainment elements to Coyote athletic events at the complex and inside the DakotaDome.
Discover more at www.daktronics.com.