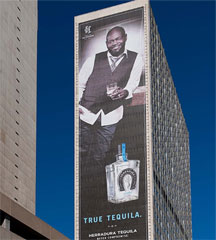 Rio 9 oz. Mesh Supreme is a bright white PVC-coated polyester mesh, printable with UV, solvent, and latex inks that can be used for indoor and outdoor displays for both short-term and long-term usage. This product has been established for years as Rio 9 oz. Mesh with Liner, and the new version is produced using the same formulation yet without the PVC film backing.
With a 25 percent air-flow, Rio 9 oz. Mesh Supreme allows for better ink coverage over the surface, giving you the vivid look you desire. The tight scrim helps the printed image appear in great detail which is ideal for both close proximity and distant viewing and is commonly used for large building wraps, parking garage banners, stadium and athletic fence wraps, and other applications that require airflow. This product, available in 126-inch and 196-inch widths, can be used for printing on one or two sides, and is NFPA-701 Fire Retardant Certified.
Value Vinyls, a supplier of Printable Sign Media and Industrial PVC since 1984, offers an ever-expanding line of products that range from 26 inches – 196 inches wide. For more information about Value Vinyls, call 800-406-8845 or visit www.valuevinyls.com.