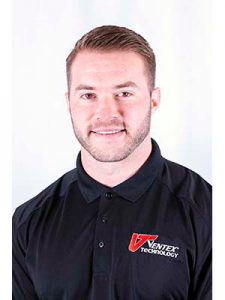 Ventex Technology is happy to announce that Neal Williams will step into the role of General Manager as of August 1, 2019.
Williams began his career with Ventex three years ago. His journey originated in the layout and shipping departments and has progressed with his promotion to Operations Manager upon the relocation of the company headquarters to Texas in September of 2017.
Williams' extensive experience within the company and guidance provided by the previous GM of Ventex, Morgan Crook, an expert in the neon field with over 30 years of experience, has contributed a strong foundation and has provided the tools and wisdom for this new position.
"I have been very fortunate to work alongside Morgan, as I have learned so much from him the past three years," said Williams. "We are grateful that he will remain a part of our team, working with us to continue providing the Neon Industry and our distributors with the best service available."
Crook will remain on board as a consultant and to facilitate technical neon and product matters.
"This realignment of responsibilities will let both of focus on our strengths," Crook said. "I know Neal is as committed as I am to continue Ventex's success and I believe this change will benefit our distributors and end users."
"I've had the pleasure of working with both Neal and Morgan for several years and know that together they are going to make a great team for the future success of Ventex," said Daryl Foreman, Senior VP of Sales for Ventex.