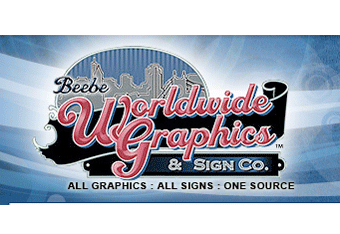 Worldwide Graphics and Sign Co., has moved from its Over-the-Rhine location to a 21,000-square-foot facility on Wiehe Road in Golf Manor in Cincinnati,Ohio. The new space represents a square-foot increase of 350 percent for the four-year-old company that has not just weathered the economic turbulence but has thrived.
The significant increase in space allows Worldwide Graphics to uphold its motto: "If we can't do it, it can't be done."
Owner Christian Beebe is acquiring leading-edge equipment so his company can provide techniques that are often not available locally. A sample of the types of printing currently available from Worldwide Graphics includes such items as a multitude of banners; signage for the retail and POP markets; building signage; prototype packing; wraps for vehicles, golf carts, and buildings; direct full-color digital printing on carpet, fabrics, brick, and concrete; custom wallpaper and wall murals (as well as WorldGreen ™ biodegradable and recyclable graphics); and signage options.
"To maintain our fast-paced growth, I continually research and incorporate new technology," notes Beebe. "It's my goal to be on the front end of innovations in the printing and graphics industry so that Worldwide Graphics and Sign Co. will be the resource to turn to, whether a customer's needs are simple or require state-of-the-industry techniques and products."
Worldwide Graphics and Sign Co. serves a broad spectrum of clients, from soccer moms to large corporations. It also is a supplier to advertising agencies, printers, and industries needing to outsource specialty printing.
The new address is: 6262 Wiehe Road, Cincinnati, OH 45237.
For more information, call 513/241-2726 or 877/956-SIGN or visit www.worldwidegraphics.com.