YESCO, the 102-year-old company known for creating, repairing and maintaining internationally recognizable signs, held its 10th annual national service convention in Louisville, Kentucky in February. More than 130 people representing YESCO's corporate and franchise locations around North America attended the event.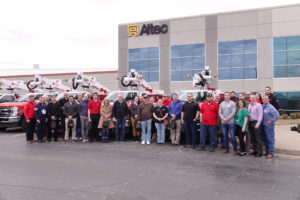 In 2011, YESCO began franchising its unique and proprietary sign and lighting service business. The network of YESCO branded franchises is growing. As of early 2022, the company's 197 territories covered communities the Midwest, East Coast and Canada.
Each franchise makes YESCO's pacesetting sign and lighting maintenance and repair services even more convenient to customers in numerous geographic areas. Franchise owners benefit from the opportunity to service existing YESCO maintenance contracts, as well the company's highly respected brand, marketing, purchasing power, proprietary technology and software solutions.
"We are grateful to all who attended the YESCO's 10th annual service convention," said Sam Fisher, senior vice president, YESCO Franchising. "The event marked the end of a two-year pandemic-induced hiatus and reminds us all of the power of gathering and personal connection."
Roundtable discussions and other breakout sessions spanned a wide range of topics. A special evening was planned at the Kentucky Derby Museum with tours of the iconic Churchill Downs. Both corporate and franchise locations were recognized for significant achievements in 2020 and 2021.
YESCO thanks their vendor sponsors for their support of the event and will hold its 2023 convention in Salt Lake City.