It's time to learn what other sign shops are encountering, as they share stories and advice that can help improve the operation and efficiency of your own business!
We will be hosting a special panel at the SBI NSSA Northeast Conference & Expo on September 19 at 11 am where a select group of shop owners pinpoint the biggest challenges they've encountered (sales, production, installation, marketing, customer service, etc.) and discuss the solutions that they've implemented in their shop and out at the job site to address these obstacles for your benefit in this insightful, conversational-style presentation.
One of our panel members for this session will be Raymond Brayton, president of Barlo Signs, a full-service sign company in Hudson, New Hampshire that has been in business for half-a-century now. Four years ago, Brayton co-purchased the sign shop and has helped it continue creating products that build success for their clients—even surpassing the original mission and expectations of its founders.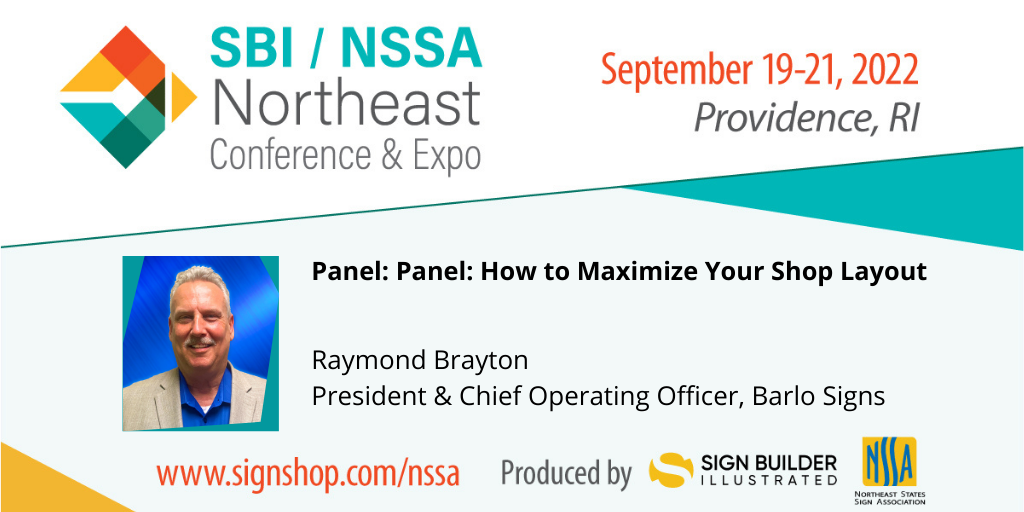 If you would like to share your own shop's story and solutions, we invite you to get involved and also become a member of this special panel. Contact Sign Builder Illustrated Editor Jeff Wooten at (212) 620-7244 or [email protected] to find out how you can do so.
SBI NSSA Northeast Conference & Expo
The SBI NSSA Northeast Conference & Expo will be held on September 19-21, 2022 at the Rhode Island Convention Center in Providence, Rhode Island.
The conference program will feature two days of sessions that offer actionable "how-to" lessons to sign shops of all sizes and levels of experience. With a focus on how sign shops can increase sales and profits through strong business management and operational efficiency, this conference will arm you with all the tools you'll need to become a better business owner.
Of course, no sign shop is complete without the right equipment and services, and there will be a large show hall filled with exhibitors from across the sign industry, hands-on product demonstrations, and valuable networking opportunities.
The day-to-day challenges of operating a sign shop along with larger issues like labor shortages and supply chain disruptions, can make it nearly impossible to step back and evaluate your sign shop's current operations and future plans. Join us in Providence this fall and make the time to work on all the aspects of your business that will result in increased profits, a stronger team, and a clear path forward.
For more information on sponsorship and booth opportunities, contact David Harkey at 973-563-0109 or

[email protected]

.