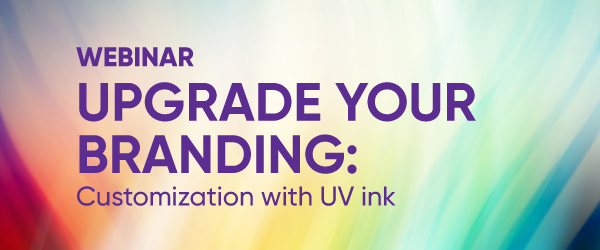 EDITOR'S NOTE: Unfortunately, this webinar is no longer available for viewing on the host site.
Customization is in style! Join us for the webinar "Upgrade your Branding: Customization with UV Ink" on October 25 at 2 pm ET. From small items such as branded stationary and corporate gifts, to vehicle wraps and temporary wallpaper, your clients are expecting a variety of printed products that match their evolving campaigns and business needs. Printing with UV ink offers a versatile solution, both for direct-to-object printing and roll-to-roll applications.
Mimaki has established itself as an industry leader in wide format UV printing. In October, Mimaki launches its new line of UJF Series direct-to-market printers, with increased speeds and improved efficiency. This webinar will be an opportunity for customization professionals to discover the latest technologies in direct-to-object printing.
The first part of this webinar will present the many ways in which you can take your business to the next level with customization, and how a UV printer will multiply your product offering. It will be a review of the potential of customization in the increasingly competitive market of on-demand printing. Join us as we unbox the latest UV technologies!
In the second part of the webinar, Mimaki's Application Specialists will share tips and tricks to improve your efficiency and productivity when printing a number of applications.
Attend this webinar to learn:
How to make key products for an eye-catching branding campaign.
About branding on the road: vehicle wrapping and car decals.
360 Degrees of personalization, for printing on bottles and glasses with Mimaki Kebab.
Sign up for this webinar now and learn the many ways UV ink can upgrade your customization options for your customers.