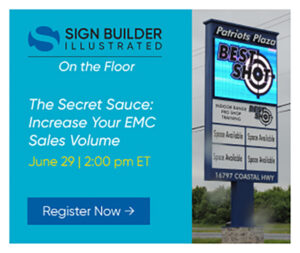 Outdoor digital signs are becoming the standard in today's market for most industries and organizations, and they are the focus of this special webinar devoted to helping you increase your EMC sales volume.
Whether you're looking to sell your first EMC or expand the amount you already sell, check out our live On the Floor Webinar taking place on Thursday, June 29 at 2pm EDT where Brandon Meyer will detail his "secret sauce" solutions that will help you increase your activity in this field!
Starting out in the sign industry as a 2000 high school graduate, Brandon cut his teeth in a small vinyl sign shop his father started as a side business. After fourteen years in digital printing and subbing out custom lighted sign projects, he took an interest in outdoor digital message centers.
Today Brandon owns a ten-year-old EMC-focused sign company based in Western Pennsylvania called Smart Signs and has recently started Meyer Supply Co., which helps sign companies grow their business through the increase of EMC sales.
Brandon will be offering his experience growing a small sign company from five Electronic Message Centers per year to seventy-five per year through SOPs, lead generation, product selection, sales demonstration, design, estimating, financing, and creative retrofit installation methods.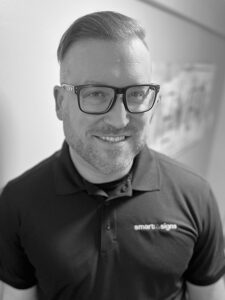 Here's a brief look at what you'll learn during this special presentation:
How to get involved with EMCs at your shop
Increasing sales of EMCs and digital signs to customers
The proper ways of demo-ing EMC and digital signage to your clients
Effectively estimating and pricing these projects so they'll be attractive to your customers and your shop
The latest trends in EMC displays
This live Webinar will also include a Q&A session where you can directly ask Brandon any questions you have about this topic! Register now to view this electrifying presentation about how to increase your EMC sales volume!