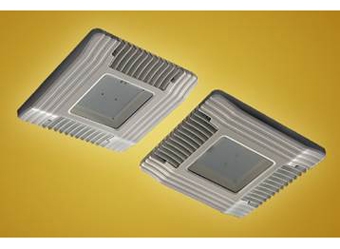 LEDtronics is excited to announce its new line of DLC-Listed LED Canopy Lights! This latest series is a far superior lighting technology and also more affordable than ever before!
LEDtronics CNP series of LED Canopy Lights have an extremely low profile, boasting a total height of only 2.75 inches. This sleek, slim design makes them perfect for any canopy application—such as Gas Stations, Manufacturing, Factory Floors, Warehouses, Loading Docks, Parking & Recreation Areas, Tunnels, Canopies, Entrances, Walkways, Underpasses, and many more.
The fixtures only consume 60 to 130 watts, replacing HID lights of 200 up to 400 watts—an energy savings of up to 75 percent! The lumen output of this LED Canopy series ranges from 5,000 lm all the way up to 13,661 lm! They come in a clear or frosted flat lens in a beautiful Pure White (5000K) color temperature.
LEDtronics DLC-Listed LED Canopy Lights are very easy to install. The unit is lightweight and doesn't need to be dismantled for installation. Not only that, but there won't be a need to repeatedly pay maintenance workers to replace the lights, which are often installed in difficult-to-reach areas. The company's long-life LED Canopy Lights last up to 100,000 hours!
The LEDtronics CNP series LED Canopy Lights are built with a rugged, one-piece die-cast aluminum housing and a UV-proof clear or frosted polycarbonate lens. The fixtures are IP65 rated: Suitable for Wet Locations, and come in a wide input voltage range of 100 to 277 VAC.
Drop lens, different color temperatures, dimmability, and different housing finish color options are available for qualified volume offers.
LEDtronics' DLC-Listed LED Canopy Lights come with a five-year U.S. factory warranty. The series is available through LEDtronics distributors, and quantity discounts are available.
For more information, call 800/579-4875, email [email protected], or visit http://www.ledtronics.com/Products/ProductSearch.aspx?searchStr=cnp.