Signs Now of Erie, PA was awarded Third Place in the Alliance Franchise Brands (AFB) 2022 Project of the Year contest. The shop's work over the course of two months was submitted by Owner/President Sue Hawley. (Note: Check out the First Place and Second Place winners of the AFB 2022 Project of the Year contest.)
Signs Now Erie worked with Regional Science Consortium, located on the shores of Lake Erie, to create the "Interactive Wetland Model" display (and turtle tank display) that shows the significance of the effects or Rural, Suburban, and Urban areas on the Wetlands.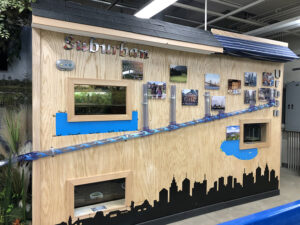 "The Regional Science Consortium asked us to help with the concept, design, and manufacturing of whatever was needed for the Wetlands educational display," says Hawley. "This is an educational display for students to 'drop a plastic ball' down the pipes and watch it continue to the wetlands, showing certain things really do affect our nation's wetlands."
"Stoppers" can be inserted into the pipes to show how adjustments can be made to the environment to reduce the effects of the Wetlands.
Signs Now Erie used 3M 7125 cut vinyls for the skyline and "Regional Science Consortium" title of the display. They also added polystyrene with prints, angle aluminum, and additional PVC pieces for the pipe inserts.
A variety of other signs were also used throughout the educational display: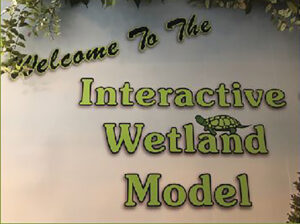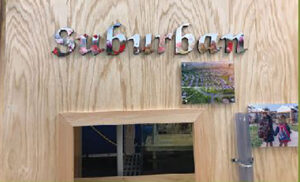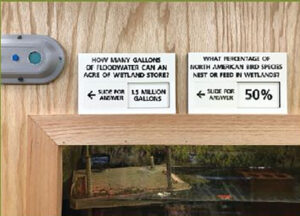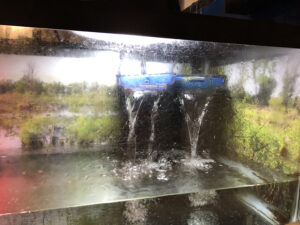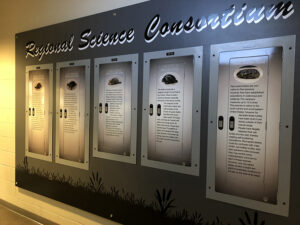 "The electric boxes were an idea to use the area for educational information about the five turtles within the Wetlands display," says Hawley.
As for the printed graphics used in the turtle tank, Hawley says, "Turtles really love this. It is proven that they are more comfortable in what looks like their natural environment."