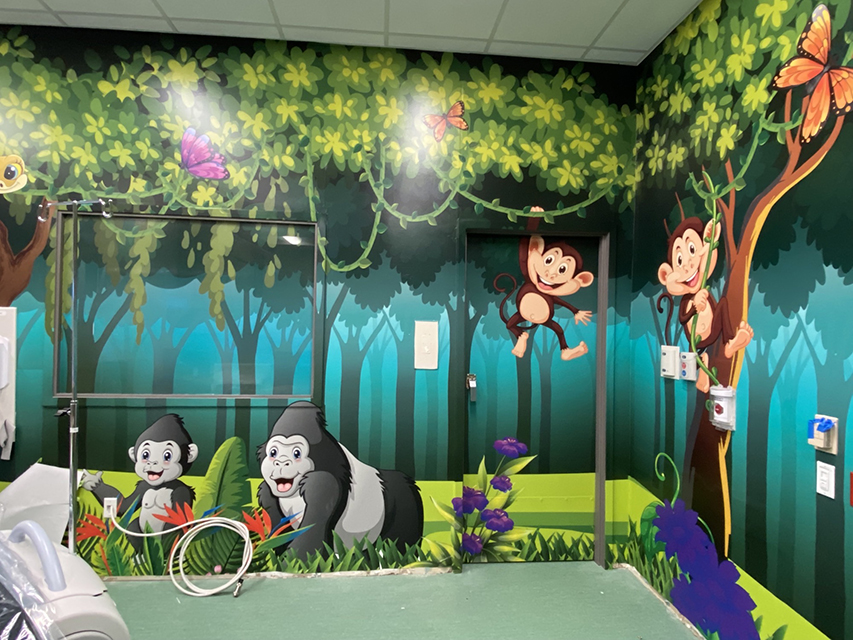 Imagine the fear and anxiety a child can experience when undergoing serious medical testing, surrounded by fast-moving, loud machinery, in a sterile hospital environment. Now imagine the calming influence that bright, colorful, immersive graphics can have on said child.
Image360 Round Rock in Round Rock, Texas completed just such a wrap project, and their imaginative efforts here won First Place in the Alliance Franchise Brands 2022 Project of the Year contest for submitted projects completed by eligible sign and graphics companies in 2022. (Note: Read more about the Second Place and Third Place winners of the AFB 2022 Project of the Year contest.)
For this project, Image360 Round Rock worked directly with Canon Imaging to wrap all the walls of a surrounding space at nearby Dell Children's Medical Center at Ascension Seton in Austin, Texas with colorful graphics, as well as on the newly installed Canon Imaging CRT machine inside the room. The idea behind the playful design was to reduce stress on the children.
Image360 Round Rock is a two-person shop made up of owner Gordon Stehr and his wife, Makiko. They have been in operation for ten years now and produce all types of signs and graphics.
Stehr and his wife had relocated back to Texas, after living in Japan for twenty years, when they decided to open their Image360 location as an opportunity to do something creative together. There is some high-tech appeal to Round Rock, as it's not only located near Austin but is also home to the central headquarters of Dell Technologies.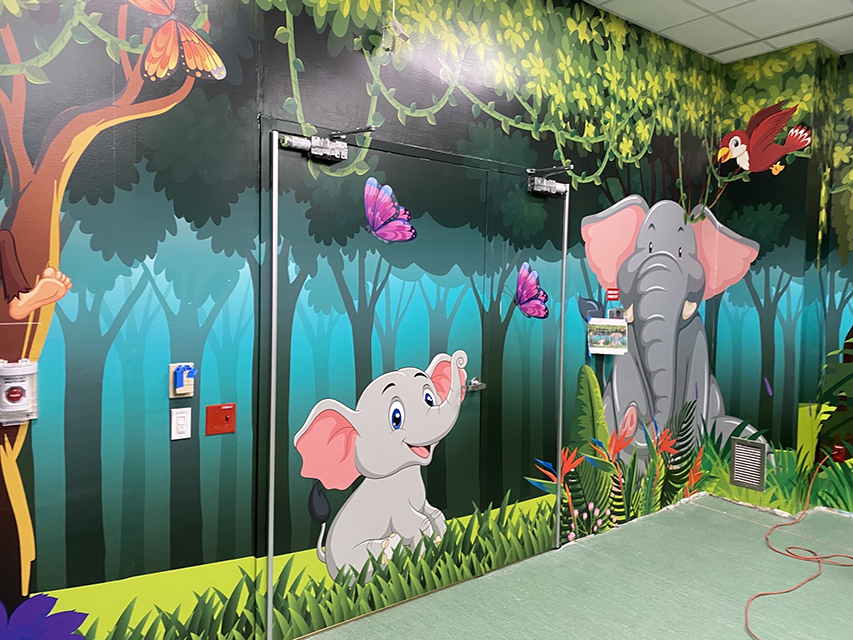 The full-service pediatric Dell Children's Medical Center in Austin is dedicated to the needs of children and families. Their computerized tomography (CT) room is used for medical imaging on patients, and they had just bought a cardiac resynchronization therapy (CRT) machine from Canon Imaging. The children using this particular machine are predominantly heart patients undergoing CRT scanning for heart defects, and they need dye injections for the CRT to work.
Even though CRTs are much quicker than MRIs, patients still need to be extremely still while it's in use. The medical center felt that, if they could find some way to create a colorful, story-like environment out of the room and the machine, this would create a calming experience for the young patients and make the process go much safer and much quicker for everyone involved.
Larry Anderson, senior account executive at Canon Medical Imaging Systems USA, brought this project to Stehr's attention after selling the CRT machine to Dell Children's Medical Center.
The design challenge for Image360 Round Rock was to create graphics that were consistent and bright inside the room—and, at the same time, tell a story.
Stehr freely admits that his background is in business, so he turned to freelance graphic artist Robert Howell, whom he has worked with on several other projects in the past, to help him here.
Howell put together a couple of design themes as quick outlines for the hospital to ponder. One idea involved a county fair with a Ferris wheel, while another incorporated futuristic imagery.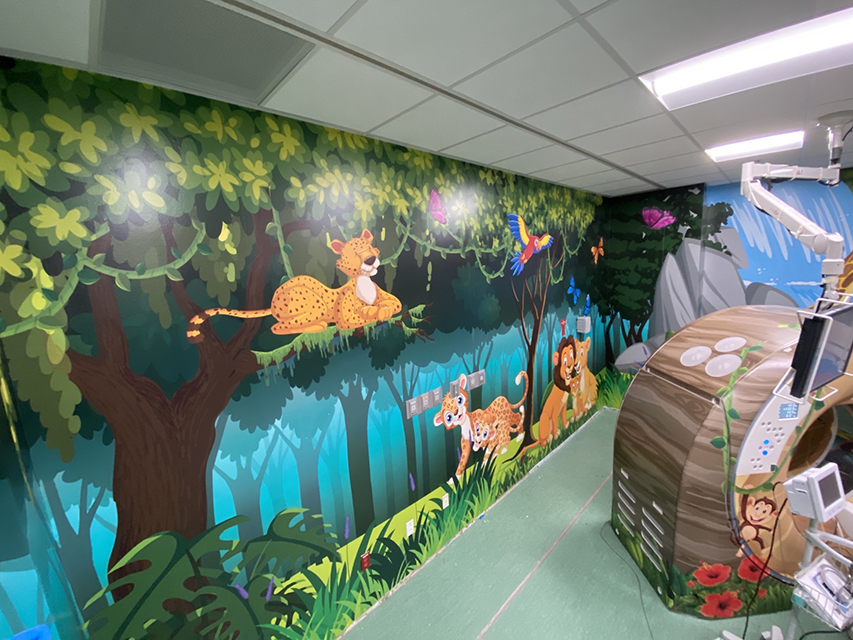 In the end, medical center officials thought Howell's jungle motif with smiling animals would work best. "They weren't super-detailed in the beginning," says Stehr. "They just let us know what kind of animals they'd like for us to use and that they wanted bright colors. So we went from there."
Howell emailed Dell Children's a progressing series of layout presentations until everyone agreed on a final design featuring cheery jungle iconography.
"We don't deal with these children. They do," says Stehr. "The medical center knew that the children there would respond better to happy images and happy animals. They knew bright colors would work better than dark colors.
"At first, it seemed like a small request, but then we figured out why."
Stehr says the CRT machine was a little harder to design around. "Since it's not that much space, you can't really put large images on it," he explains. "Yet it still had to kind of fit in with the overall motif."
However the clock was ticking. The machine had been set up in the room, and testing and training on it was already being performed. "We had to do the install under a very tight timeline, about a week," says Stehr, "as there was a backlog of patients who needed scanning on this unique, new machine. These machines are expensive, and the [medical center] wanted to get theirs going as quickly as possible."
The immersive, 360-degree vinyl jungle experience covers all four walls in the room. There is also another "Welcome to CT" graphic with baby animals outside the room. "Every room at Dell Children's Medical Center has a theme," says Stehr, "and every room has a 'welcome' graphic on the wall outside it."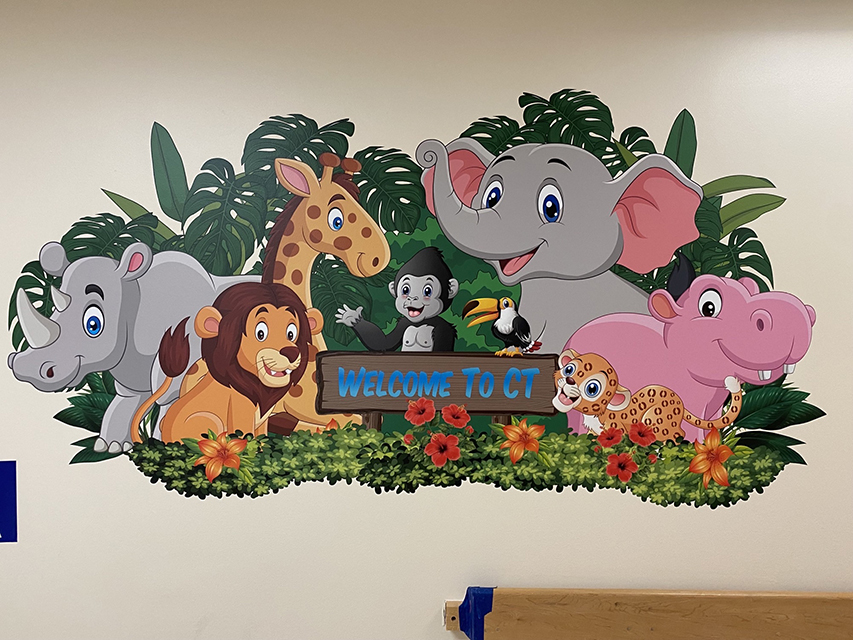 To print and install the graphics for all the walls and the CRT machine, Image360 Round Rock ended up using two boxes of ORACAL non-PVC Pro-Slide with a matching overlaminate.
Another challenge Image360 Round Rock encountered was having to wrap a free-sitting cabinet in the room that needed to line up visually with the scenery featured on the wall behind it.
"Everything had to be a smooth transition, as far as the image was concerned," says Stehr. "So during our site survey, we took note of the sizes of the walls, the size of the cabinet, and where the cabinet was exactly going to be located."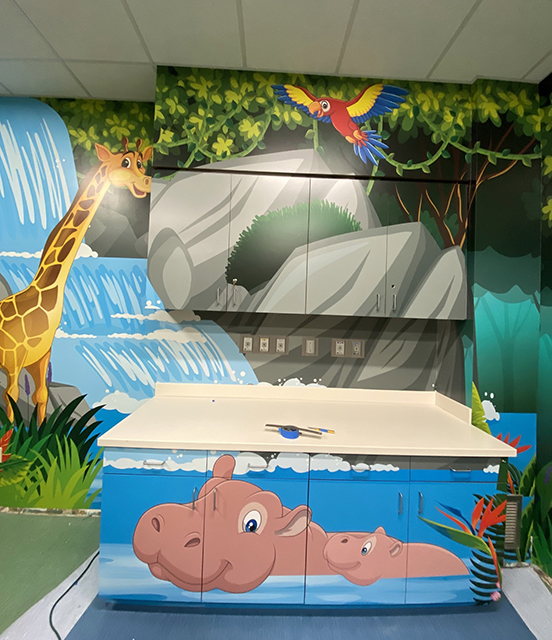 Stehr credits the staff of Dell Children's Medical Center for helping them during this dry vinyl installation, taking things off the wall for them to wrap and then putting them back on. "We didn't have to cut around things," he says. "We just made a big 'x,' and then they put the hazmat boxes back on the wall."
Wrapping the "really-round" surfaces of the newly installed CRT machine, while still allowing the machine and bed to be able to move in different directions, proved a technical challenge.
"When we put the vinyl on the CRT, the operator moved things around so the vinyl wouldn't curl under," says Stehr. "They also took off pieces of the plastic on the CRT so we could wrap around it. It has really critical buttons on it that have to always be accessible. The vinyl couldn't get in the way of anything."
While Stehr says this project was a lot of fun, he admits it ended up being a lot more detailed than he thought going into it and credits the design efforts of Howell helping him big time.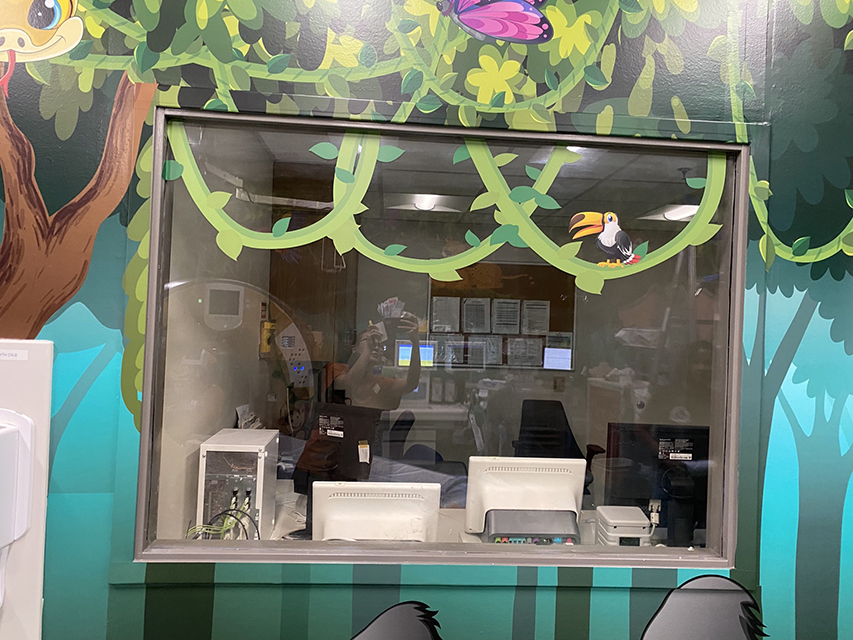 Stehr is proud of the support Canon Medical Imaging Systems provided bringing them onboard this project (as well as Anderson selling the machine package to the hospital under the condition of the need for a visual image).
He also credits Dell Children's Medical Center for being very supportive. "They wanted something that could tell a story to the kids for the first time they're going there," says Stehr, "and entrusted us to do so. I really appreciate what [Howell] came up with."
Stehr says that every sign business has a project they're most proud of every year but submitting it to a Project of the Year contest can be a bit of a different story.
"We felt this was maybe the only time we'll submit something like this," he says. "And if it does end up being so, then this is the project we wanted to submit.
"We worked well as a team and got it done. We didn't have any issues afterwards."