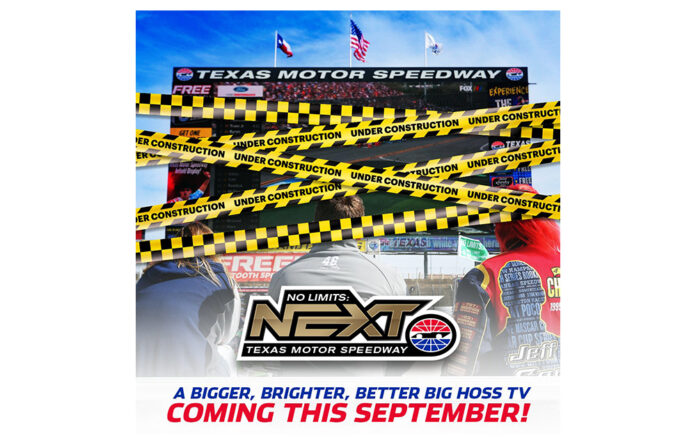 Everything really is bigger in Texas, especially when GoVision gets involved! The Argyle, Texas-based provider of large-scale LED video displays has teamed up again with Texas Motor Speedway to provide a major upgrade to the track's Big Hoss TV screen, which set a Guinness World Record when GoVision first installed it nearly a decade ago.
The new state-of-the-art Big Hoss TV will be a DigiLED Vision Ultra screen measuring 10 percent larger (22,692-square-feet to 20,660-square-feet), with 22 percent more pixels (8,236,800 total pixels to 6,405,120 total pixels), 20 percent higher resolution (16mm to 20mm), and 16 percent brighter (7,000 nits calibrated brightness to 6,000 nits calibrated brightness).
"Working again with a premier trusted organization like GoVision is not only a great pleasure but also a continuation of Texas Motor Speedway's long-standing goal of partnering with best-in-class Texas-based companies," said Texas Motor Speedway Executive Vice President and General Manager Mark Faber. "GoVision has been a valuable partner over the years with both our speedway and Speedway Motorsports.
"We certainly appreciate their efforts in installing the new-and-improved Big Hoss TV screen in time for our Autotrader EchoPark Automotive 400 NASCAR Playoffs weekend."
Big Hoss TV was unveiled on March 19, 2014, and received certification from the Guinness World Records on April 6, 2014, as the World's Largest HD LED Video Board. The multi-million-dollar Big Hoss TV upgrade continues Texas Motor Speedway's ongoing commitment to enhance the race fan's overall experience.
"GoVision is proud to provide this great upgrade to Big Hoss TV," said GoVision Founder & Chairman Chris Curtis. "Our new technology will return it to its rightful place among the best, brightest and biggest screens in the world. It's another milestone moment for the unrivaled team at GoVision.
"We're excited to work again with the team at Texas Motor Speedway, extending our twenty-plus-year history of partnering on state-of-the-art solutions. We provided the scale-size unit for the original Big Hoss TV press conference, and now we're building the full-scale plus one! We're also proud to be a long-term partner of Speedway Motorsports, providing services across their family of tracks—not least of which was bringing the largest freestanding center-hung video board in the world, Colossus TV, to Bristol Motor Speedway."
GoVision is a premier provider of large-scale LED video displays renowned for its unique ability to provide "Experience Unrivaled" in live sporting, music, and corporate events—both through its rental of large-scale LED video displays and fixed installations like Big Hoss.
—Press Release