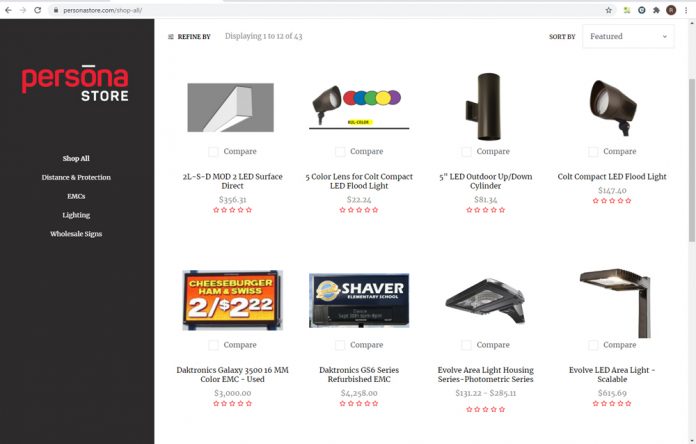 Persona, Inc., one of the nation's largest sign companies, has entered the e-commerce world with the launch of an online store. The site, personastore.com, features single- and double-faced sign cabinets, electronic messaging center (EMC) displays, lighting and LEDS, and much more. These are all overstock items and are being offered to customers at deeply discounted prices, some as much as 70 percent off wholesale prices.
The online store also features hygiene shields and floor decals to help companies amid the COVID-19 pandemic. Other items will be added to the store on a regular basis as they come available.
"Throughout the pandemic, Persona has put the needs of our customers first, and this is part of that," said Persona President Mike Peterson. "These are difficult times for everyone, and we have made it a priority to better serve our customers and help them succeed. Their success is our success."
Persona's e-store will allow sign companies to acquire needed items quickly and easily at tremendous cost savings.
Persona had the e-store in the works prior to the COVID-19 pandemic but accelerated its launch to better serve its customers in these difficult times.
Payments can be made by major credit card, PayPal or Apple Pay.
"We believe our customers are going to love our e-store," said Peterson.
—Press Release