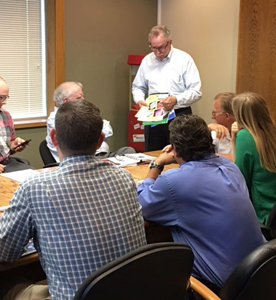 Sign shops may think they understand the sales model in our industry—manufacturers supply their products through distributors who then provide them to sign shops.
However there is a role in our industry that is gaining more and more attention—that of manufacturer's reps.
"A manufacturer's rep is the outsourcing of a function to an independent firm so [a manufacturer] can focus on their core competencies," explains Charles Cohon, CEO & president of the Manufacturers' Agents National Association (MANA).
The rep provides sales services on a paid-for-performance basis.
"There's little risk because your sales cost is in direct proportion to your sales," says Cohon. "If you have a sales employee, you're paying salary and expenses. You have all kinds of costs that are fixed whether you sell anything or not."
Manufacturer's reps are prevalent in other industries like construction, but their growth has been slow in the sign industry. Cohon believes this may be attributed to the issue of control versus efficiency.
"The reason that people tend not to adopt reps is they confuse control with efficiency," he says. "They feel like if they don't control the situation, then they're not going to get their money's worth. When, in fact, exactly the opposite is true.
"If you attempt to control from Chicago the way sales calls are conducted in Pittsburgh, your Chicago-based biases, the way that you're used to conducting business, and just the physical distance is going to undermine your efficiency."
(Note: MANA recently launched a podcast series on manufacturer's reps: manaonline.org/podcast.)
Another reason that manufacturers may be hesitant to use reps is the perception that they are "sharing" time with the other companies a rep may be working for. Cohon believes this is a problem of perception versus a check in the negative column against reps.
"All these different manufacturers who make complementary, noncompeting products get to share sales leads," he says.
This means that if a rep walks into a sign shop to sell LEDs, all of the complementary products they represent that may go with that lighting (power supplies, trays to run the cables, extrusions to build lighted cabinets, etc.), all get a seat at the table with the shop owner.
"Because of the longstanding relationships that we have in the industry, if we walk in with the product, it automatically gets a level of credibility with our clientele," says Joe Lupton, manufacturer's representative and consultant at Yorston & Associates (Y&A), a firm that was founded in 1985 and now has core product lines in electrical and commercial signage. "All of these products get a rolling, continuous audience with people that they normally wouldn't have an audience with."
Manufacturers
SignComp, a manufacturer of aluminum extrusion systems, has been working with Y&A for the last thirty years.
"We were a new, small company, and we immediately saw the advantage to hiring a remote salesperson and sharing that cost with other manufacturers," says Peter Lamberts, CEO of SignComp.
Over the years, SignComp says they have continued to work with Y&A because the firm constantly introduces new products to the market and supports SignComp's existing customer base. Y&A also allows them to have a presence in all of their market areas.
"They are our 'feet on the ground' when we cannot be in the area," says Jeremy Breihof, regional sales manager at SignComp.
Reps can provide benefits for both new companies looking to establish a foothold in the sign industry or for existing companies who want to expand or grow. Aside from the sales presence, reps can also provide support at events like open houses, tradeshows, etc.
Manufacturer's reps are in shops all over the country, and because of this, they can provide some unique insights to their manufacturer clients.
"We have a very broad view of the industry and can share all kinds of intel with the manufacturers and say, 'Listen this is the trend we're seeing, [and] this is how we can adapt and continue to evolve with the industry,'" says Lupton. "A lot of times, it's a consulting role where our experience and what we're seeing in the field shapes the next product they build and design."
This results in sign shops having their opinions heard. "It gives me a voice," says Bob Esser, senior technical designer at CIMA Network. "They're the people who go back to the manufacturer and say, 'Hey you've got to step up your game,' or, 'These are the things all my clients are asking for.'"
Distributors
As a shop owner, you're used to getting all of your products from a supplier. How do manufacturer's reps change that?
They don't—they actually enhance the experience. In fact, Y&A makes sure the manufacturers it represents all have a distributor so that shops are able to quickly and easily get product when they put in an order.
"We are extremely dependent on distributor partners who will go in there and take the sale and deliver the product," says Lupton. "It's a circle of support. Because at the end of the day, I don't have a physical product to sell to somebody. It's going to go through a distributor partner."
Reps help to educate distributors on the products they represent so they're better prepared when talking with sign shops. "[A manufacturer's rep] will help educate you on the product and help you with the pull-through on it to be able to sell it," says Michael Sonlin, east coast sales manager at Pioneer Supply.
Sonlin has a unique perspective on manufacturer's reps because he was one prior to jumping to the distributor side of things in 2000. He even recommends that his sales force travel with reps.
"They can learn about the product from the rep, and the rep will actually help them to present that product better," he says. "They may [also] be able to help you with a relationship with somebody you may not have a relationship with."
Adam Yorston, manufacturer's representative and consultant to the sign industry, northeast territory, for Y&A, explains, "Covering multiple products from an expert level allows us to cover more ground together and become more valuable together when visiting sign shops."
Sign Shops
Reps may work on behalf of manufacturers, but the biggest benefits lie in what they offer to sign shops.
For one, reps aim to go beyond selling products—their goal is to teach and educate sign shops. "We bring technical expertise, and we bring a teaching method to integrate products into what [shops] do," says Lupton. "We don't just share a product, we teach them a new and better way to do what they do."
This is key in an industry where there isn't a centralized place to learn everything you need to know about signage.
"There are no legitimate full-on technical classes nor courses you can take at a university to get a degree," says Lupton. "The industry desperately needs someone who's constantly digging in and saying how do we do this smarter, how do we do it more efficiently, and how do we do it more economically?"
And manufacturer's reps serve that "digging in" role by finding the latest and greatest products for sign shops that result in a more efficient process.
That's just one of the reasons why the CIMA Network works with them.
"There's always new products coming out every day, and I really don't have the time to scour the Internet to find what I need," says Esser. "I think, as manufacturers, we get stuck in this role of using the same product over and over again—because it's worked, because it's cheaper, etc.—and not thinking that maybe there's a better product to suit this need. And that's where the manufacturer's reps need to come in. I've seen some real awesome ideas from them."
What's key for many sign shops is that manufacturer's reps come in offering not just one or two products but oftentimes an entire solution. "We're not selling one piece of the puzzle, we sell the entire puzzle," says Lupton.
This results in more meaningful conversations between reps and shops where many topics and projects can be covered.
"As sales people, our goal should be providing the customer the best solution we can to earn their everlasting trust. I get to be nonbiased in a sense and really focus on a solution and really focus on what that customer needs," says Yorston. "A key part of that is listening."
Esser believes manufacturer's reps are a relationship sign shops can't go without in our industry. "It's a very powerful relationship with some people that really know their stuff and can scratch your back when you need it," he says.
By Ashley Bray
Photos: Yorston & Associates.